Zync launched its first Android 4.0 Ice Cream Sandwich Zync Z990 Tablet in India at Rs. 8,990. This tablet features a single core Vivant GC340 mobile processor and runs Android 4.0 Ice Cream Sandwich OS without any customisation. It comes with a full USB 2.0 port that can accommodate and read from USB flash drives as well as USB data modems.
Zync Tablet is one of the few tablets offering Android 4.0 Ice Cream Sandwich for less than Rs 10,000. We got lucky enough to get our hands on the new Zync Z990 Tablet.
Design
Zync Z990 appears very similar to the company's current lineup of Android tablets – Z900, Z909 and Z999. Meant to be held in landscape mode, the tablet has been built using RoHS compliant plastic materials for the shell. The tablet has been built using components manufactured in Korea and China, and it has been assembled in China.
In a way, Zync did a fair job by labeling the respective ports and keys at the back of the tablet. So the user can easily understand which port is the USB 2.0. Interestingly, the company has offered a Menu button and Escape button. At the back is a speaker grill and there is no camera at the back.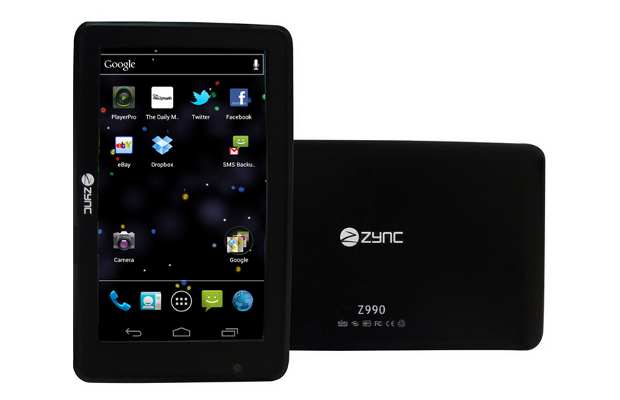 Zync Z990 tablet has a matte finish and does appear decent and slightly heavy due to the packed battery. It feels just fine in the hand and the bezel around the screen makes it comfortable to hold as well as control with the thumb.
Display
This tablet has a 7 inch capacitive touchscreen display but supports WVGA (480 x 800 pixel) native resolution. At first instance, the screen does not appear as crisp as one ideally expects. The company has chosen to offer the solution that Reliance 3G Tab provides – WVGA resolution for a 7 inch touchscreen display. Of course, several applications would be supported by default but icons and webpage texts appear way too bright for their own good. After installing the new apps, half the icons appear chopped off at the top. Clearly, the homescreens have not been optimized to fit the resolution.
Operating system and apps
Though the tablet has a Vivante GC460 mobile processor, the operating system appears sluggish even with 1 GB RAM. Even basic functions such as copy-pasting make it freeze as if multi-tasking is taking place with twenty apps open. Copy-pasting a string of text in a webpage makes the rest of the panel inactive. Apps take their own sweet 2-6 seconds to load. And while apps are loading, the back button, menu button and task switcher button become somewhat non-responsive. At times the hardware buttons do not correspond to commands and act wonky.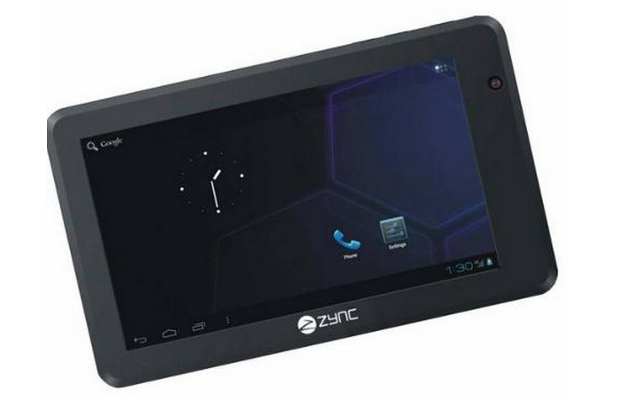 The Zync tablet has a USB host feature that can read and write data on USB flash storage. Apart from that, the tablet is capable of using most 3G USB dongles available in the market for data connectivity. However, due to that feature, the tablet's cell standby mode consumes about 71 per cent of battery and it ends up consuming more battery just to show that. When asked, the explanation given to us was that since 3G dongles can be used with the tablet, it is one of the built-in features. The cell-standby should ideally not consume more than 15 to 20 per cent battery, which is true even in the case of most modern day smartphones. Only a proper update that can fix the homescreen resolution and cell standby issues can make this tablet easily usable.
The packaging boasts of supporting full 1080p HD video but we doubt if it would make sense watching it on a 7 inch tablet. Nonetheless, the tablet claims to support a wide range of audio and video formats.
Other features
Certainly, a tablet with Android 4.0 Ice Cream Sandwich for Rs 8990 has a good sound to it, but this device is far from being ready for mass consumption. The operating system software has not been properly implemented and improvised to be used with the touchscreen and hardware. The tablet packs a 3600 mAh lithium-ion battery and weighs 380 grams.
Zync Z990 Tablet features a micro-HDMI port, a full USB 3.0 port and a micro USB port. The tablet offers only 4 GB internal storage while one can add up to 32 GB additional storage via microSD cards . Zync also offers a USB dockable keyboard for Rs 999.
After the first contact with the tablet we are far from being impressed about what is being offered at the price. Stay tuned for our detailed review soon.