Samsung Galaxy Note created a new category with a 5.3 inch screen that was called a phablet. LG brought in its own phablet soon with Optimus Vu, though, with a slightly different take-with a 5 inch screen and 4:3 aspect ratio, which meant a wider screen.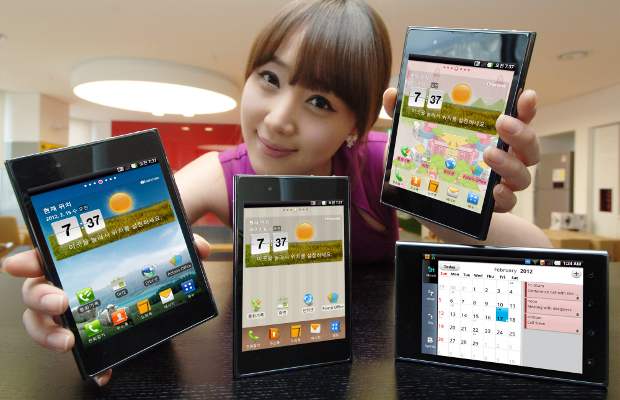 While the phone has been around for a while in some of the other markets, in India it was launched only yesterday. The phone itself has had many iterations, with the first based on a dual core chip and Android 2.3. However, the one that has arrived in India has Android 4.0 and a 1.5 GHz quad core Nvidia Tegra 5 processor.
LG has priced the phone at Rs 30,000 (market price,) which is bang in the Galaxy Note territory. So how does the phone score given its price and specs? Here is our first impression of the device.
###PAGE###
Design and display
The most redeeming feature of the phone is its 5 inch IPS panel display that comes with 550 nits brightness and 1024 x 768 pixel resolution, which means the screen is bright and offers very high resolution along with a very good viewing angle.
However, what makes the phone different is the 4:3 aspect ratio of the screen, which in comparison to most mobiles that come with a 16:9 aspect ration is wider and shorter. While this does mean that your documents, e-books and websites will get more space and there are no bands or hidden details, it also means that the phone is a bit too wide for single handed operation. Even for making calls you will need both hands.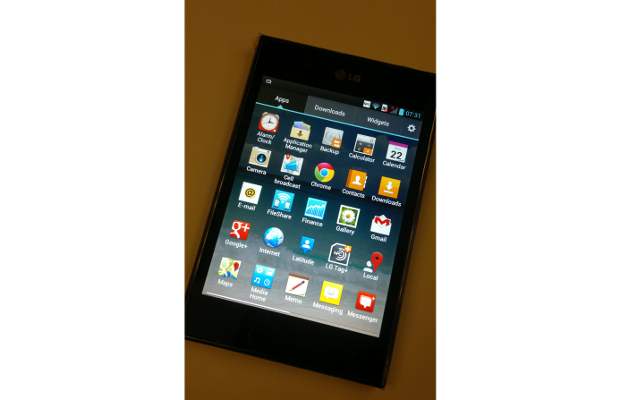 The phone is, however, very slim at 8.5 mm, and also gets a textured back which is not as classy as you would expect from such a premium handset, though it adds to a good grip.
Since most videos these days are shot in a 16:9 aspect ratio there will always be a black band at the bottom of the screen.
###PAGE###
Performance
The phone has a 1.5 GHz quad core Nvidia Tegra 3 processor coupled with 1 GB RAM, and while we did not get a chance to play games on it, the performance of the phablet should not be a problem given the hardware.
LG also claims that it has used a new kind of battery called Sio+, which it claims lasts 1.5 times longer than a Lithium ion battery. There is a 2080 mAh battery in the phone and given that the Nvidia Tegra 3 comes with a fifth battery saving core, the battery life of the smartphone should be decent.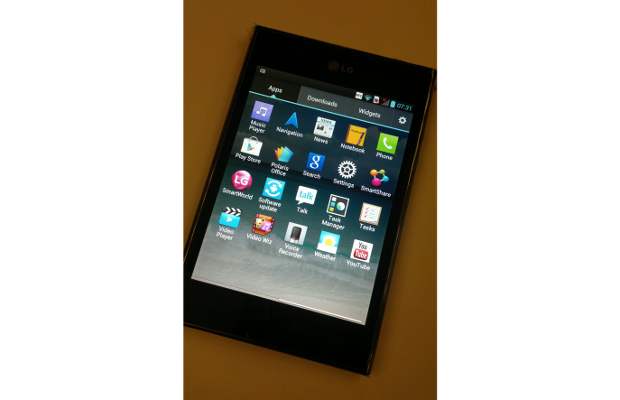 Camera
The phone has an 8 megapixel camera coupled with LED flash at the back and a 1.3 megapixel camera in the front. The rear camera comes with several software upgrades like multiple shots and 'Say Cheese', with which you can choose the best shot. There is also image stabilization and autofocus apart from smile detection. All in all, the camera is pretty feature rich.
However, it is still not the best camera in the business though it offers decent options and very reasonable quality images and videos with which we did not find much to complain about, at least in our short interaction with the device.
###PAGE###
Stylus
Just like Galaxy Note this phone too comes with a stylus. However, it is not as feature rich a stylus as the Samsung's S Pen. It is also thinner. LG has put in some neat apps to take advantage of the stylus, though, like note taking and notebook features. In fact, LG has put a dedicated button for note taking, which takes a snapshot of the screen and adds the ability to write on it. You can also have a simple yellow note as background. You can put in voice, video and images on a note. The phone also has handwriting recognition ability, but we could not check that.
Overall it's fun to use this stylus although there is nothing on the phone to hold it. There is not even a thread to hang it to the phone, so you will have to keep it in your pocket as a pen, which is really sad and will lead to most people not using it at all. The good part is that a finger works just as well for most purposes.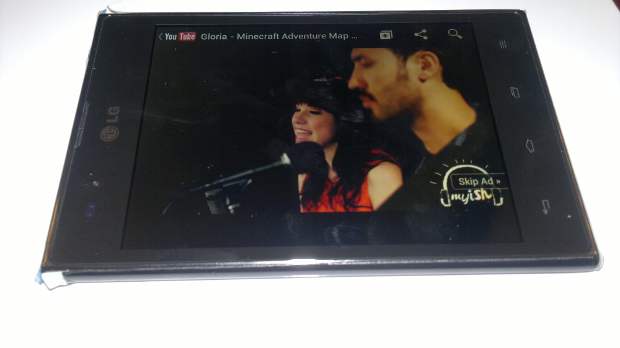 Connectivity and storage
The phone also has all sorts of connectivity features that you can use in India. While it does not support LTE, it does have NFC with two tags bundled (that will have to be touched to activate a preset profile). You get 3G, WiFi and Bluetooth 4.0 connectivity. The phone is DLNA certified, which means you can connect, share and explore any connected DLNA device through it. It also has A-GPS.
The phone comes with 32 GB storage built in, but there is no MicroSD card slot for expansion. LG is offering 50 GB cloud storage for free in partnership with Box.net.
###PAGE###
Finally
The phone is late to market given that Optimus Vu II has already been launched internationally. However, the specification of Vu has been revised in August and that makes it a fresh device. On the negative side the phone is too wide to hold with a single hand, but it also has a lot of screen space and can really be used as a tablet as well as a phone.


The biggest worry for LG would be how customers react to this phone given that Samsung Note is priced at the same level and has been tried and tested by many Indians. We will review the device and give a final verdict soon. Till then we would only say that it has the specs that very well justify the price.