Cross-platform Messaging service, GroupMe has rolled out a new update and extended its reach to 90 countries including India. The new GroupMe 3.0 App enables cross-platform group messaging, private messaging, voice calls and allows creating a virtual chat room.
The new update also brings capability to share photos, location and even start a conference call. GroupMe app is available for iPhone, BlackBerry, Android and Windows Phone 7 platforms.
Amidst all the current BlackBerry Messenger alternatives, the all new GroupMe only has the feature of creating a private chat room filled with known folks. The GroupMe app allows creating a private chat room with users whose phone numbers exist in user's phone book. All users not necessarily have a GroupMe app for they can always receive messages and respond via SMS using specific codes. In short, it doesn't matter what mobile phone it is, you can always be part of a conversation.
At this moment, the full SMS chat support is currently available only for users in United States. Meanwhile users from other countries can make use of the GroupMe.com website to be part of a private conversation.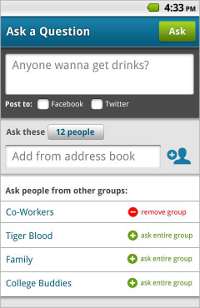 The new GroupMe 3.0 app brings several improvements to make it more user-friendly and also a new feature called Questions which is in Beta. Like the conversation or topic start, Question feature can be used to ask whatever to the private group or select people and get their responses accordingly. Users can also send Direct Messages to specific users but this feature is available only for iPhone and Android version of the app.
Sure, GroupMe does look like 'free' cross-platform messaging service but does come with couple of limitations. GroupMe service currently offers support to only nine mobile service providers of India. The participating mobile service providers of India are Etisalat India, IDEA Cellular (now includes BTA Cellcom and Escotel), Loop Mobile (India), Reliance Communications, Sistema Shyam TeleServices, Tata Teleservices, Uninor, Videocon India and Vodafone Essar (multiple circles).
So only if you have your number registered with any of the aforementioned service provider, you will be able to user the GroupMe service after receiving a confirmation code to get started. Users will be charged for the data connection used while using the app and also for the SMS text message tariffs for both local and International messages.