Google will launch the Ice Cream Sandwich operating system on October 11 at the CTIA Enterprise and Apps 2011 convention in San Diego, USA.
In enthusiasm, the Android Developers' official account had made the video of 'Android ICS launch' on its YouTube account and pulled it back later. CNET managed to grab the screenshot in time and thereby confirmed Google's Android Ice Cream Sandwich launch plan.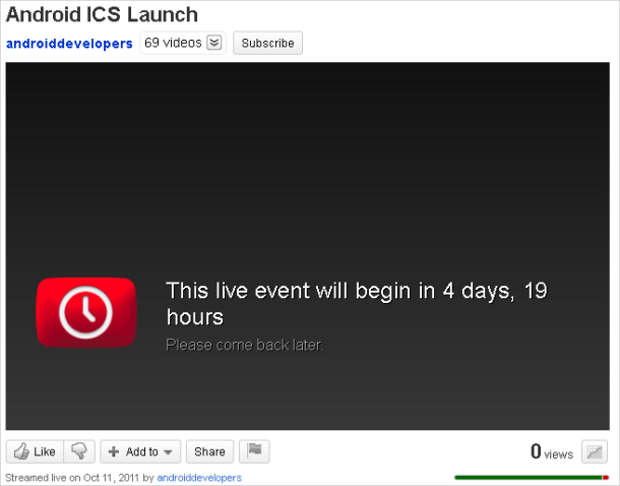 Google announced Android Ice Cream Sandwich update at the Google I/O Conference earlier this year in May. The Android Ice Cream Sandwich update will unify the Honeycomb and Gingerbread experience for both tablets &#151 One OS that runs everywhere providing a seamless user experience on smartphones, tablets and other devices.
Most importantly, the Android Ice Cream Sandwich is expected to eradicate the fragmentation to ease off the developers. For users, there would be a shiny new user interface that will be like a mixture of Gingerbread and Honeycomb put together.
Till now, there is no clarity on the version number of the Android Ice Cream Sandwich and one can expect more details at the CTIA event next week.
Samsung is expected to show the first Android Ice Cream Sandwich loaded Google Nexus Prime smartphone on October 10, a day before the actual Ice Cream Sandwich launch.