Google has announced that it was started rolling out a dark mode for its Gmail app on Android and iOS. The feature will be available on the Gmail app on enabling the dark theme on iOS 13 or Android 10. Additionally, the Google Play Store has also started receiving a Dark mode on Android smartphones.
Google says that Gmail will automatically adjust to dark mode if the device runs on Android 10 or iOS 13. The company says that dark mode will release over an extended rollout of 15 days which means even phones with an earlier version of Android will be able to enable them.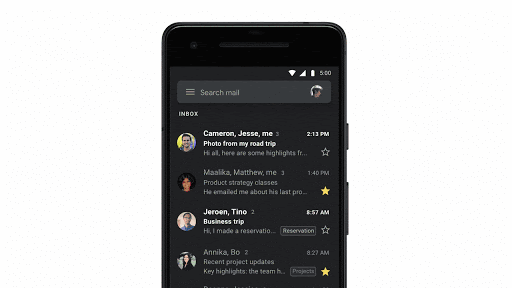 To enable the dark theme on Android 10, head over to Android Display system setting on your phone and set your device to Dark theme. On pixel phones, Gmail will switch to Dark theme automatically when Battery Saver is enabled.
On smartphones running Android 9, you'll see a new Theme option under Settings inside the Gmail app to enable the app to switch to dark mode.
For iOS 13, Dark theme will automatically load if the iOS setting is switched to dark. On iPhones running iOS 11 and iOS 12, you can enable Dark theme by going to Settings > Dark Theme.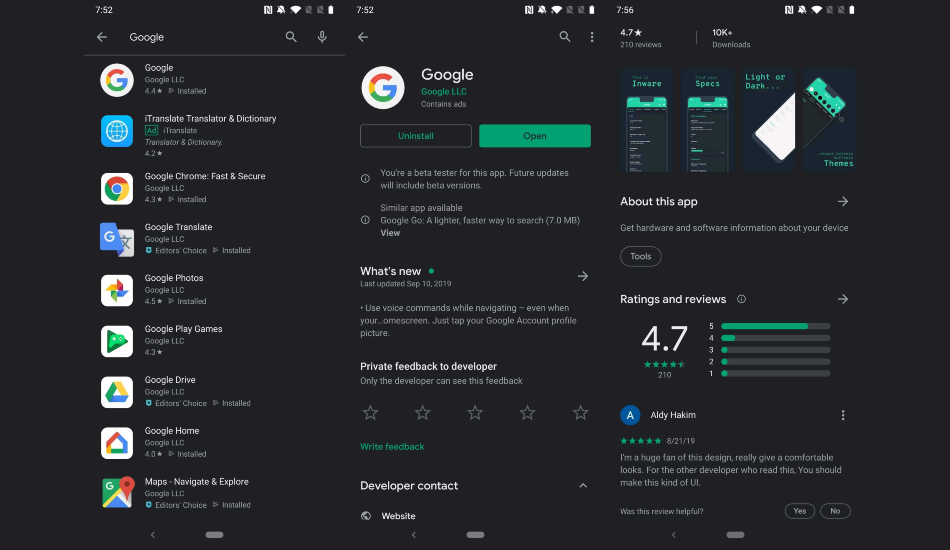 Google has also started rolling out a dark theme to the Google Play Store. Screenshots shared by 9to5Google show the main feed, bottom bar and navigation drawer all of which have been painted in a darker shade. On enabling dark theme, the background doesn't change to pure black but instead shifts to a dark grey colour.
Dark mode on the Play Store can be enabled with Play Store version 16.7.21. The feature can be accessed by opening the Play Store, heading over the Settings button from the side menu and tapping on Theme.