Google recently took off the curtains from its latest flagship Pixel series smartphones, including the Google Pixel 8 Pro and the device is coming in at Rs 1,06,999 in India. The Pixel 8 Pro packs the most top-end hardware and software Google could provide and so is the Galaxy S23 Ultra, where Samsung went all in earlier this year with its own flagship. Both of them have the latest and greatest their makers could equip the phones with. But which one goes one step ahead? Let's find out.
Design & Display
Starting with the build quality, both Google and Samsung have figured it out. They have their design language they have been sticking to for the past couple of years, where you get the iconic camera bar that makes the Pixel unique and recognisable. On the other hand, the Galaxy S23 Ultra gets a more minimal and stealthy look with five circular cutouts placed individually next to each other.
While the Pixel 8 Pro gets the rounded-off edges, the S23 Ultra has sharper ones, which, being a user of the phone, I can say dig into your hand after a point of time. The curved and more rounded form factor definitely makes up for a better grip in the hand. They both are IP-rated, so taking either out in the rain shouldn't be an issue.
Both of them get stereo speakers and premium haptics, but the Pixel lacks the S-Pen. That depends on whether it's useful or not, but it's definitely an add-on feature you cannot miss on the Galaxy S23 Ultra. Pixel 8 Pro has curved edges as well, while the S23 Ultra has slightly flatter ones. However, we can say that both of them feel as premium as possible for a flagship, and that's the ultimate goal.
Coming to the display on the front, both of them employ QHD panels, but Samsung's flagship has a marginally bigger panel and a slightly sharper Resolution that shouldn't be visible in daily usage compared to the Pixel 8 Pro. Both of them are LTPO panels, meaning they can dynamically switch between 1Hz to 120Hz refresh rates. However, the Pixel 8 Pro's panel can get as bright as 2400 nits, while Galaxy S23 Ultra's panel tops out at 1750 nits. That's a noticeable difference on paper, and we feel it would be in the real world as well.
Aside from that, the panel on the Galaxy S23 Ultra is one of the best we have seen on a flagship. The Pixel 7 Pro also had a decent display, as per our review, and if the panel on the 8 Pro is anything better, then it can definitely get into the league of S23 Ultra.
Read More: Google Pixel 8 series, Pixel Watch 2 launched, India pre-orders begin
Performance & Software
Performance on the phones should ideally be top-notch where the new Tensor G3 handles the Pixel and Snapdragon 8 Gen 2 drives the Galaxy. On paper, the Tensor G3 stands close to the Snapdragon 8+ Gen 1, meaning the 8 Gen 2 is far better in terms of specifications. However, as we mentioned, that shouldn't be a cause for worry as long as you are not trying to push the chip to its limits because that is where the Tensor G3 might start to fall back.
As Google's blog states, "Our work with Tensor has never been about speeds and feeds, or traditional performance metrics. It's about pushing the mobile computing experience forward. And in our new Tensor G3 chip, every major subsystem has been upgraded, paving the way for on-device generative AI".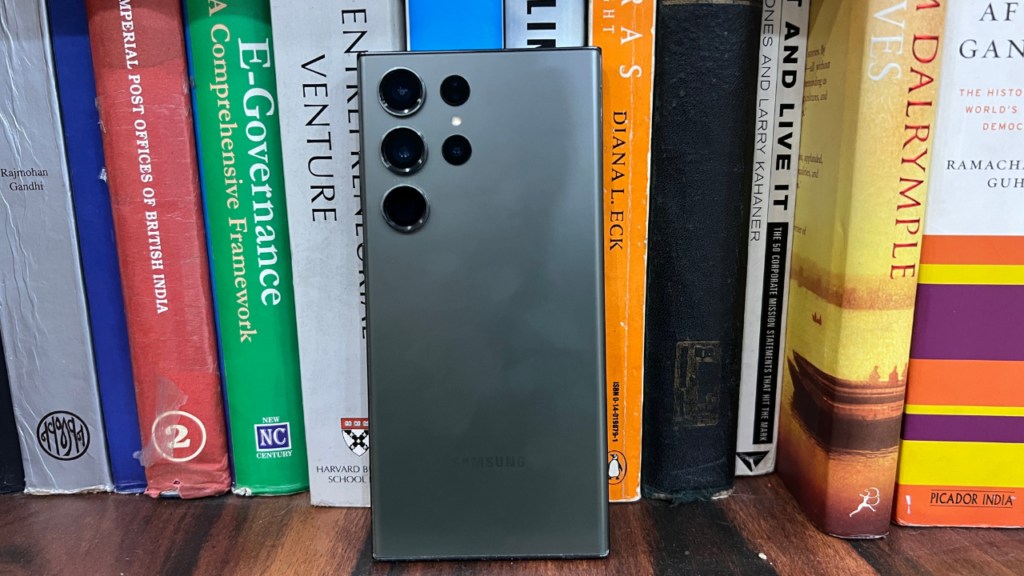 Even though it may not translate well in terms of numbers, the Tensor G3 should still be considered a flagship processor. However, we'll have to give it to the Galaxy S23 Ultra for going ahead with a better overall chipset. Not only that, but the S23 Ultra also packs faster and the latest UFS 4.0 storage (compared to UFS 3.1 on 8 Pro), which, combined with the faster and more efficient chipset, improves performance in sustained workloads. Also, Google is selling only the 128GB storage model in India, which is a bummer.
Google struggled a bit with the Tensor G2 thanks to the thermal throttling issues. If that has been improved on the Tensor G3, we don't think it's far away from catching up with the competition.
Coming to software, it has been Google Pixel's forte for a long time. It gives you one of the smoothest experiences available on Android out there. With the new AI-based features, Google is taking things to the next level on the Pixel 8 Pro that comes with Android 14, such as the generative AI wallpaper creator. Then, Google has also announced 7 years of software support for Pixel 8 series which is 3 years more than what Samsung gives. But, whether you find that useful or not would depend on how often you switch smartphones.
With One UI, Samsung's focus has been on the productivity side, with features filled up to the brim. A customisable setting for almost every other feature is available on One UI. With One UI 6, Samsung has been overhauled some of the UI elements, making it look more modern. As both of them are equally impressive software skins, and it is more of a subjective matter, we'll have to give this one a tie.
Cameras & Battery Life
Cameras are that part of the smartphone that Google has been nailing since the inception of Pixel series phones. Even Samsung has begun to improve things of late on its flagship phones, and the Galaxy S23 Ultra is the epitome of that. Once again, it packs one of the best camera systems on a smartphone. However, we cannot compare it to the Pixel 8 Pro just yet, as we haven't got our hands on the device.
As for the battery life would highly depend on software optimisations and how well the chip is performing. With that in mind, Galaxy S23 Ultra has exceptional battery backup and can easily last more than a day. It has almost the same capacity battery on paper at 5000mAh versus 5050mAh on the Pixel 8 Pro. Once again, the Pixel 8 Pro battery backup is yet to be tested.
Verdict
Finally, we can say that both of them belong to the best flagships of the 2023 category and offer a wide range of experiences through various features unique to each one of them. Where the Galaxy S23 Ultra is a productivity monster with a rich feature set, the Pixel 8 Pro focuses more on the usage experience with Android.
For the price, we would say that the Galaxy S23 Ultra is slightly more worthy in India than the Pixel 8 Pro, solely because of the huge number of features you get with the device and how well One UI has been packaged inside the device. This doesn't mean the Pixel 8 Pro is a bad phone. What it does mean is that it is demanding a considerable amount of money in return for the lesser overall value it is providing for that price. We feel it has more potential to provide better for the price or bring it down in line with what it is offering.