Google probably has two months till it starts flaunting their all-new Pixel 3 and Pixel 3 XL with the latest Android P interface which is set to roll out earlier on August 20. While there have been no significant leaks about the upcoming flagships, one of the devices have now been found on the hallways of benchmarking site Geekbench and it is the more expensive Pixel 3 XL.
According to Geekbench, the Google Pixel 3 XL is running the upcoming Android 9.0 P, only this time, it won't be the only device it'll run on from the start. While not clearly revealed, Google will be packing in Qualcomm's latest Snapdragon 845 chipset which is a logical upgrade over the Pixel 2.
What's surprising is that the Mountain View company is still sticking to 4GB of RAM, the same amount of memory found on last year's Pixel 2. While 4GB is more than enough for most users, it needs to be noted that even entry-level smartphones come with the same memory configuration and for a flagship that the Pixel lineup is, the 3 XL should at least have 6GB of RAM.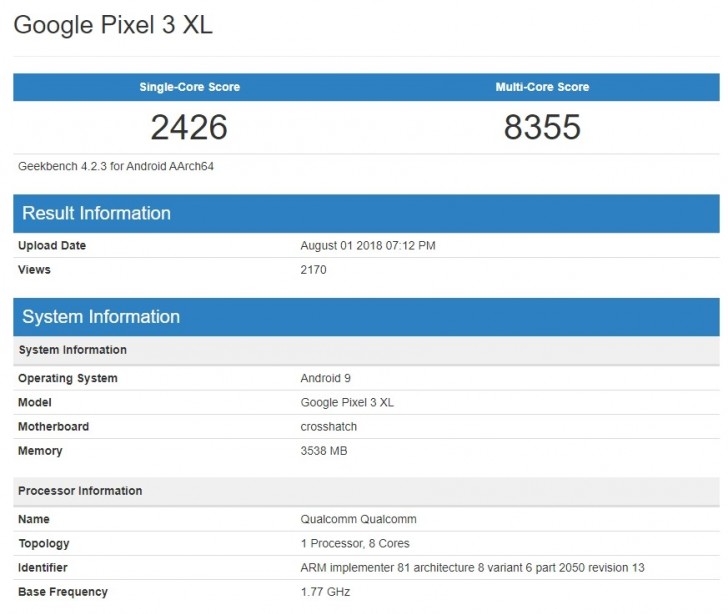 This can be confirmed through the Geekbench scores for single-core and multi-core tests on the Pixel 3 XL which resulted in 2426 and 8355 points. The scores are far from impressive which could also indicate the possibility that the Pixel 3 XL unit that was tested could be a prototype and is not close to being a finished product.
Other than that, the Pixel 3 is expected to come with an 18:9 screen while the Pixel 3 XL takes in the longer 19:9 form factor. Most people are anticipating how Google embraces the notch on its latest flagship lineup with reports suggesting there will be dual cameras to the front of the phone and also support for wireless charging at the back. We'll know more once we close in on a release date.