Google has finally introduced the Google Opinion Rewards app for the Indian market. The app is created by Google Surveys team and allows users to answer quick surveys. The app is now available in India, Singapore and Turkey. The app is available for download from Google Play Store.
The app asks for few surveys, and in turn, users get Google Play credit. The credit can then be used to buy applications or games from Google Play Store. The app is ideal for those who want to buy their favourite games but don't want to spend real money.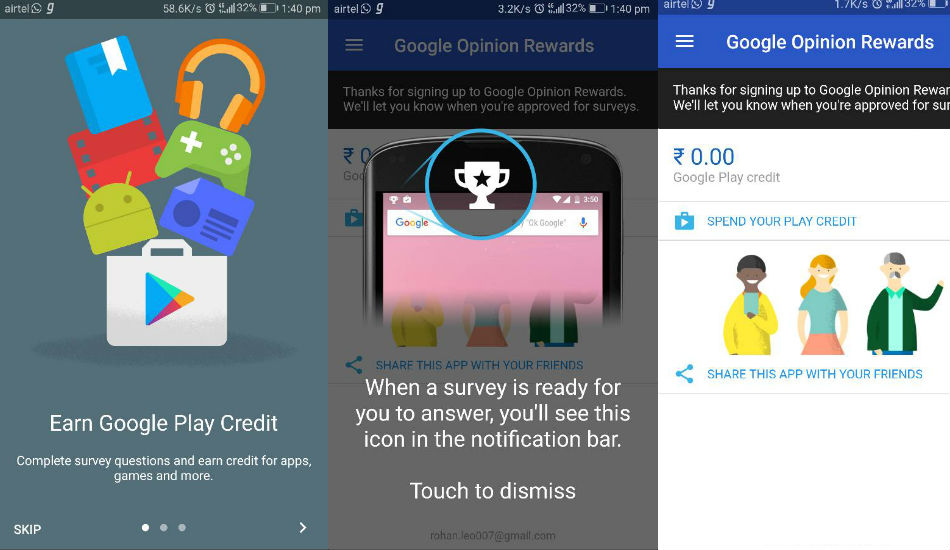 The working of the application is pretty simple. Once you download the app, you need to answer some basic questions about your name, age group, gender and so on. Google will send you surveys around once a week, although it may be more or less frequent. The moment a new survey arrives, you will get a notification on your phone and can receive up to $1.00 ( approx. Rs 64) in Play credit for completing it.
Google is working hard to make the Google Play Store much safer as well. The company, during its annual developer conference, announced a new programme known as Google Play Protect, which safeguard users from malicious and dangerous apps. Play Protect will be built into every device with Google Play and automatically takes action to keep users' data and device safe. Google says that it scans more than 50 billion apps every day, and the new feature will detect and remove apps that might be harmful.