A month after adding two-step verification compatibility to all Android phones, Google has now announced a new feature which brings users the ability to delete Location History and Web/App Activity data automatically.
Starting today, users will be able to set deletion their location history and activity data across web and mobile to automatic. With this feature, the activity and location data stored inside a user's Google account can be set to automatically get delete in 3 months or 18 months. Upon choosing a time limit, data beyond the selected deadline will be deleted by Google.
Besides this, users can also opt for manually deleting the data which has been Google's default settings for these kinds of data in the past few years.
While the settings don't directly affect your recommendations, there will be changes to the recommendations you receive as these will be limited to the data that's available for Google for the time frame you choose.
To enable auto-deletion of your location history and activity data:
1. Open the Google app and head over to the "My Activity".
2. Inside the new page, click on "Choose to delete automatically" under the "Web and Activity" section.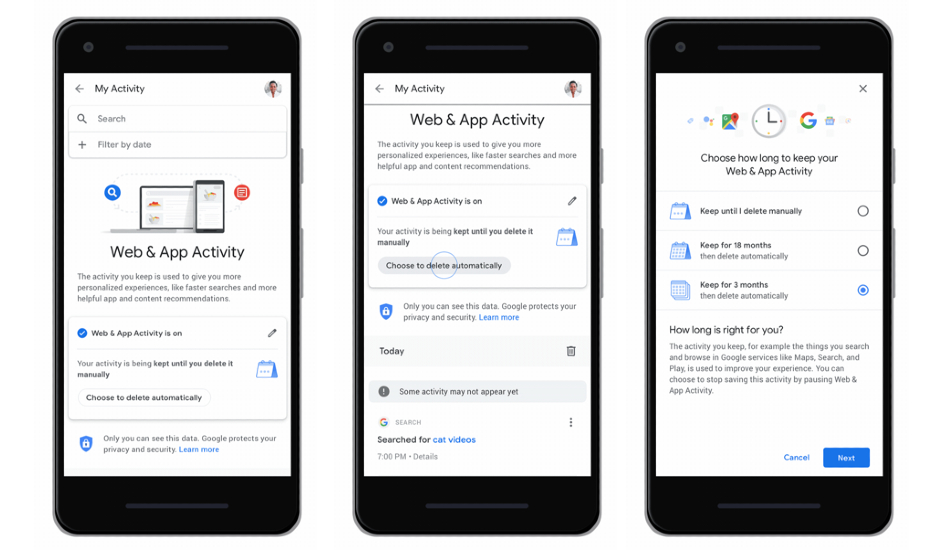 3. You'll now be greeted with a new screen which allows you to choose the time limit to be set for auto-deletion of location and activity data. You can choose automatic deletion in 3 months or 18 months or just keep it set for manual deletion.
4. A new screen will appear asking you to confirm. This screen will show you the data accumulated through the years which will be deleted in case you select auto-delete. Click on confirm to enable the new feature.
5. Your new preferences are saved by Google and your old data will be deleted from Google servers.
Auto-delete for Location History and Web/App Activity data will be rolling out globally to all users in the coming weeks.