Google's recently announced Nexus 7 tablet has been made available in markets like the USA, the UK, Canada and Australia in two versions – one with 8 GB and the other with 16 GB internal memory. During the launch Google had anticipated that the 8 GB version of the tablet will be preferred over the bigger 16 GB version.
However, as it turns out the consumers have turned their attention towards the 16 GB version of the Nexus tablet over the lesser memory variant. In simple terms device storage seems to be the first option of users over cloud storage.
The idea behind having a limited on device storage on 8GB Nexus 7 was to promote users to shift to cloud based storage services with much emphasis laid on cloud based services such as Google Music, Docs, Mail and Drive. Contrary to the expectations, buyers don't seem to be getting convinced with this idea, atleast as of now.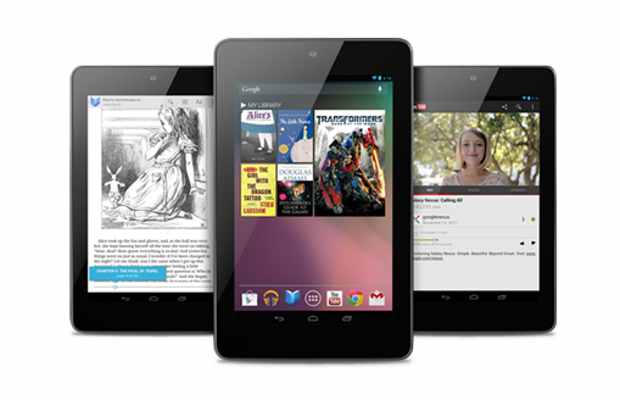 Media reports have quoted that in most markets, the 16 GB version of Google Nexus has run out of stock and retailers have stopped taking orders for buyers. On the other hand, the 8 GB version is available in plenty in the market, but users are less enthusiastic about the lower storage version, for fear of running out of storage as the Nexus 7 misses out on the expandable storage point.
The Google Nexus 7 comes with a 1.3 GHz quad core Tegra 3 processor with a GeForce 12 core graphics processor, 1 GB of RAM, 1280 x 800 pixel IPS 7 inch display, Near Field Communication (NFC) capabilities and nine hours battery backup consisting of continuous video playback.
The Google Nexus 7 is the first Android device to feature the Android Jelly Bean (Android 4.1) operating system along with features such as an intelligent keyboard that predicts words as you type them, and supports offline voice recognition for typing and other inputs. Besides, the tablet comes with support for 18 languages.
While the customer's interest has shown Google that hardware storage still rules the game, the internet giant will now be desperately making up for the increase in demands with more and more 16 GB version tablets being sent to the markets. So will now Google be interested adding more storage to the Nexus 7 tablet or perhaps a Micro SD card slot or will they stick to the clouds, awaits to be seen.