The close relationship between Apple and Google may have gone sour but the companies continue to work on their products. Google has updated its Maps web app for the iOS devices and added new Street View functionality to it. The iPhoneInCanada website first spotted the Street View features in Google Maps web app for iOS devices. While the native Google Maps app for the iOS devices is yet to see the day light, the company pushes to enhance the Google Maps for the mobile web with the Street View.
Apple dropped the Google Maps from the iOS 6 update and added the new Apple Maps prepared with in-house cartography. In order to continue providing the navigation experience, the company has updated its mobile web version of Maps.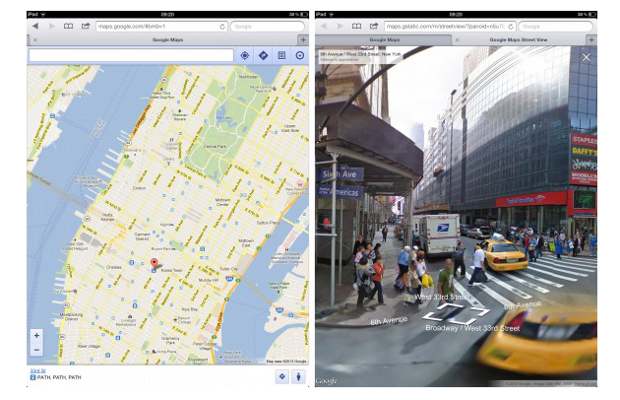 Now Google has offered its Street View feature through the mobile web app version of the Google Maps for the iOS devices users. The interface and the performance of the Google Maps web app is not as good as the native Maps app on the iOS devices.
Apple CEO Tim Cook had apologized for the inconvenience caused to the customers due to the new Apple Maps app. A hacker named Ryan Petrich managed to load the old Google Maps app on the iOS 6 running device but still not released the workaround publicly.
With the arrival of the iOS 6 and iPhone 5, Apple has taken serious heat over the half-baked Maps application. Just like several other products it may get better over a period of time but it requires loads of data to make it better across the globe. It would be interesting to see if Apple accepts and publishes the Google Maps app for iOS through the App Store.