Google has brought out an upgraded version of its maps application for Android, ditching its old location mobile aware application, Latitude. The new Google Maps application brings a new cleaner user interface that resembles the Google Maps iOS app interface.
The updated app claims to offer better route to help you reach your destination faster. Besides, it will offer live traffic updates, incident reports and dynamic rerouting. It also offers a new 'Explore' feature enabling users to browse and discover popular local places to eat, drink, shop, play and sleep
Google Latitude is an application that allows a user to share his location with his friends, making them aware of his location. The Google Latitude application will be completely shut down by August 9 along with the ability to "check-in" at spots being visited. Google will release the revamped maps application for iOS in a short while.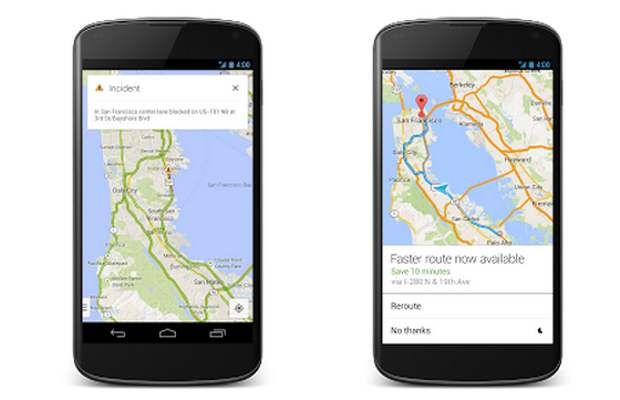 The Check-In feature is thus to be moved to Google+ post August 9. The move thus is viewed as a tactics to lure people to Google+, which so far has not posed much of threat to the popular social network Facebook.
"Today we're introducing a new Google Maps app for Android smartphones and tablets, also coming soon to iPhone and iPad. It's a new mapping experience that makes exploring the world and getting to the places that matter to you a lot faster and easier. The app is gradually rolling out globally in Google Play and will be available soon in the App Store," Google announced on its blog.
"One important change you should know about is that Latitude and check-ins will be retired. These features will no longer be a part of the new Google Maps app, and will stop functioning in older versions by August 9. We understand some of you still want to see your friends and family on a map, which is why we've added location sharing and check-ins to Google+ for Android (coming soon to iOS)," the blog post further read.
Google has also shut down the offline features. However, users can now access maps offline by simply entering "OK Maps" into the search box when viewing the area you want for later.
The new Google Maps for mobile is compatible with Ice Cream Sandwich and Jelly Bean Android devices and iOS 6+ when available.