Google had released an update for its Chrome browser for Android devices. Apart from faster browsing, the update brings improved gesture control.
The latest version of Chrome on Android allows users to switch between tabs by swiping their finger horizontally across the top toolbar; this gesture required swiping from the edge of the screen, and shorter swipe is require to perform the function. Secondly users can drag their finger vertically down from the toolbar to enter into the tab switcher view, this will allow then faster switching between various open tabs. Also users can drag downwards from the menu to open the menu and select the option or sub menu they like to access.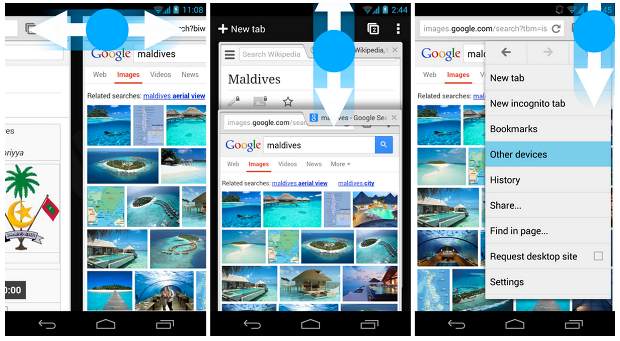 Earlier Google Chrome for Android announced the adoption of SPDY proxy, allowing users to get better and faster internet access over their existing connections. SPDY servers compress the web content and push squeezed web pages to the mobile screen, much like Opera browser for mobile devices.
Interested users can head over to the Google Play store to check out the new experimental Beta build of the Chrome browser.