Google has added a number of things to the Android Market including a +1 button and a PIN number for application or content purchases. The additional PIN number will prevent accidental purchases or rather will minimise them, especially when movies and other such content comes to Android Market.
This is the second biggest update of Android Market since July. The look and feel of Android Market has been spruced up and users will now get swipe functionality for shifting or moving between apps on their devices. This transition allows users to comfortably browse through hundreds of apps and makes it easier for them to stay focused.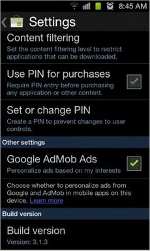 The update is available over the air only and the notification will appear on your device as soon as the app is available in your region. If you are amongst the ones who cannot wait any more for laying your hands on the file, then you can use the this party link.
But beware, it's an external or third party link and The Mobile Indian does not give any sort of guarantee with this link. We have however tried the application ourselves and it works perfectly well.
At present the application will only work on smartphones running Android 2.2 and above.