Yonac, a mobile application developer, has developed a new GhostGuitar app that allows users to play air guitar, which means that you can create guitar tunes without really holding a physical guitar.
This has been made possible with augmented reality. The GhostGuitar app works with iOS 4.2 running devices that have a front facing camera such as iPhone 4, iPad 2 and iPod Touch (fourth generation). Amongst several other guitar apps, the GhostGuitar app promises the real air guitar fun.
The app detects user's hand movement, for instance right hand, performs the gesture of strumming the strings and left hand fingers manipulating the fret board, to create music.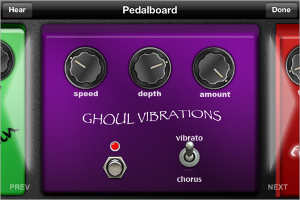 User can also perform picking individual strings on the air guitar simulated on the device's screen. For starters, users get to choose the type of guitars to play along with chord progressions and use effect pedals.
Once the user gets hang of air guitar and effects, the 'Ghost Band' practice will give almost real jam session experience. The app supports 44.1 kHz quality audio and offers touch-free air guitar in true sense.
GhostGuitar can be slotted as one of the fun apps for the iOS devices that involve the user physically and give more real-like experience of air guitar. We can expect couple of applications like this for iOS devices and the platform can give some competition to the Kinect for Xbox 360.