Samsung's Galaxy Tablet has entered the Indian market with the tagline 'Start Tabbing'. Some call it a multimedia device; others think it is a gaming console; still others see it as a mobile phone with high speed broadband; while another bunch compares it to the Amazon Kindle – an e book reader. No matter what is being said about it though, Samsung Galaxy Tablet is here in India, and from the looks of it, is here to stay.
Galaxy Tablet is powered by Android operating system 2.2. It combines mobile telephony with a whole host of applications, and offers consumers PC-like web browsing capabilities as well as multimedia content on a seven inch display.
Thus, users can e mail, make voice or video calls, send SMS or MMS messages, use social networking sites, and maps for navigation, play games, and access a vast library of books and publications through the tablet's e reader application.
Users can wirelessly sync their Galaxy Tab to their DLNA compatible TV or computers to stream movies, share photos and music files or view documents on a large monitor.
The Samsung Tab is priced at Rs 38,000, and was launched in India on November 10. It has tied up with various leading telecom operators including Airtel, Aircel, Reliance Mobile, Tata Docomo and Vodafone for data services.
'Categorically'different?
The tablet category in India (some may call it the multimedia device category instead,) is at a nascent stage. Over the past few years there has been an explosion in the convergence of mobile platforms with applications and internet access – mobile phones are getting into areas that were dominated by laptops, while smartphones have evolved as a different species altogether. And the tablet with its myriad offerings takes convergence ten notches higher.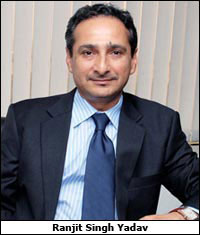 Samsung's competitors in the tablet category currently include Apple with its iPad, Dell with Streak and Olive Communications with the OlivePad. Devices such as Amazon's Kindle and Barnes and Noble's Nook are also vying for consumer attention, but these are e book readers; not direct competitors to tablets.
According to Samsung, its Galaxy Tab has an advantage over the rest because, unlike the others, it possesses the DNA of a mobile phone.
The country head of Samsung's mobile and information technology division Ranjit Singh Yadav expects the tablet market in India to boast of sales to the tune of 750,000 units in a year's time, that is, by November-December 2011.
The word 'tablet' is a word-play on how small and sleek the device truly is, and yet offers the world in a nutshell.
Who's keeping 'tab'?
Tablets are meant for evolved consumers who want more out of technology. "The Samsung tablet allows you to do more than what a traditional phone does," says Trivikram Thakore, the general manager of marketing at the HHP division of Samsung India.
Hence, the brand's communication task isn't simple — with too many things to say, it is important that the consumer isn't left feeling confused or indifferent.
To begin with, Samsung is targeting people who are tech-savvy, the "been there, done that" variety with short attention spans, who are constantly looking for something new. This, typically, would mean a person who leads a hectic life; and likes everything on the move. Such a person often multi-tasks effortlessly, and is bombarded with devices that offer him help with this multi-tasking. Thus, he probably uses a mix of gadgets for his needs.
Galaxy Tab hopes to eliminate the need for multiple devices by encouraging its consumers not just to do more, but also to "live more" by carrying his world wherever he goes.
"This aspect of living more is what we have labelled as 'Tabbing'," explains Thakore of Samsung, which explains the punchline, 'Start Tabbing'.
Crafted by agency, Leo Burnett India, 'tabbing' is a communication language or lexicon, with anyone who 'tabs' being given the term 'tabber'. The whole point is to generate curiosity amongst consumers on the tabbing phenomenon and to get them to think, "Am I a tabber?"
Samir Gangahar, executive director, Leo Burnett, remarks, "With cutting-edge technology, the Samsung Galaxy Tab targets the young, upwardly mobile guys, with its 'tabbing' language and culture." However, the Samsung tab doesn't restrict itself to the youth alone. Being a versatile device, it also targets senior-level professionals, and upmarket teenagers.