After its global launch in May, Fujifilm has announced the Fujifilm GFX100 mirrorless large format camera in India with the world's highest 102 million pixels resolution and unique colour reproduction technology. The Fujifilm GFX100 camera will be available in India for a price of Rs 7,86,999. The company has also announced the new "Premista" series of cinema zoom lenses for a starting price of $38,800 (approx. Rs 26,66,000).
The Fujifilm GFX100 comes with a 102-megapixel large format sensor with a focal length of 55mm that sits between 35mm and 120mm. It's also the first large format camera to equip phase detection autofocus, with 3.76 million phase detection pixels.
The GFX100 is powered by a Fujifilm X-Processor 4 processor and can deliver 16-bit RAW files with high dynamic range and colour fidelity. The camera can shoot 4K videos at 30fps and comes with Fujifilm's bunch of film simulations. The camera additionally comes with a back-illuminated image sensor and In-body image stabilisation.
There's a 5-axis image stabilisation built into the camera which can get 5.5-stops of stabilisation which is also helped by the design of the shutter system which is suspended with the help of four springs to minimise shutter shock. The camera will be able to shoot at a native ISO of ISO 100 which can be upped to ISO 12,800.
The Fujifilm GFX100 can output uncompressed 10-bit 4:2:2 footage to an external recorder with the help of an HDMI cable. The camera is housed inside a magnesium alloy body which is weather-proof. It also equips an ultra-high-definition EVF with a 5.76 million-dot OLED panel and five optical glass elements.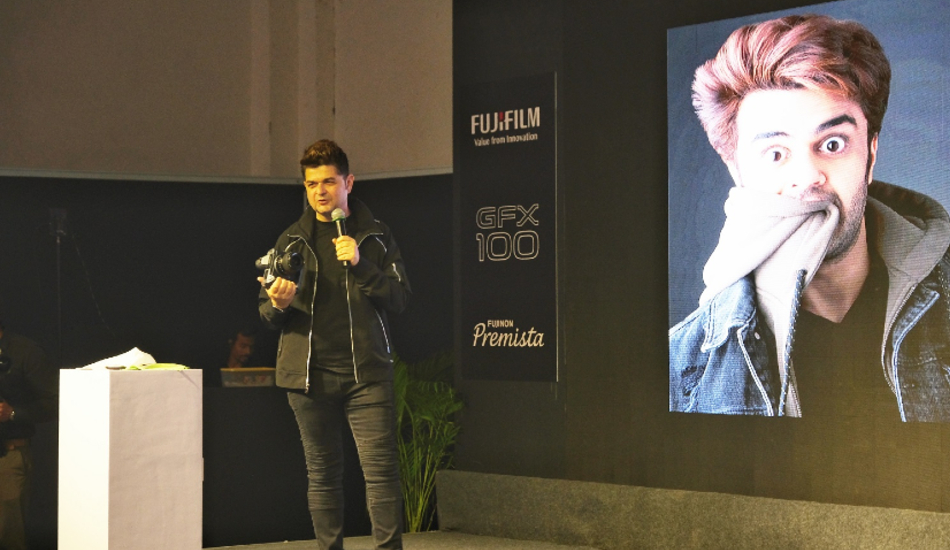 Fujifilm has also announced a new Premista series of zoom cinema lenses with support for large format sensors. The new Premista series lenses include the Premista 28-100mm and Premista 80-250mm. The Premista 28-100mm is a standard zoom lens that offers fast T-stop value of 2.9 across its focal length range of 28-100mm. The Premista 80-250mm, on the other hand, is a Telephoto zoom lens with the T-stop range of 2.9-3.5 and a focal length range of 80-250mm.
The Premista lenses produce video in natural colour tones, popular with the HK / ZK / XK / MK Series of cinema lenses. It comes with a focus ring can be rotated as much as 280 degrees and operation rings for focusing, zooming and iris. The lenses offer support for ZEISS eXtended Data which can correct lens distortion and peripheral illumination in addition to recording lens metadata.
Speaking about the launch, Fujifilm India MD, Haruto Iwata said "This is indeed a gratifying moment for us and we are excited to announce the launch of the world's highest 102 million pixels mirrorless camera – GFX100 in India. At Fujifilm India, our endeavour has always been to bind innovation together with service that enhances customer delight. With the launch of GFX100, we have achieved a great milestone in our digital camera business. I am optimistic that the launch will further enhance our presence in India and we will continue introducing cameras that deliver an unparalleled standard of optical brilliance that is sure to delight a photographer's fantasy".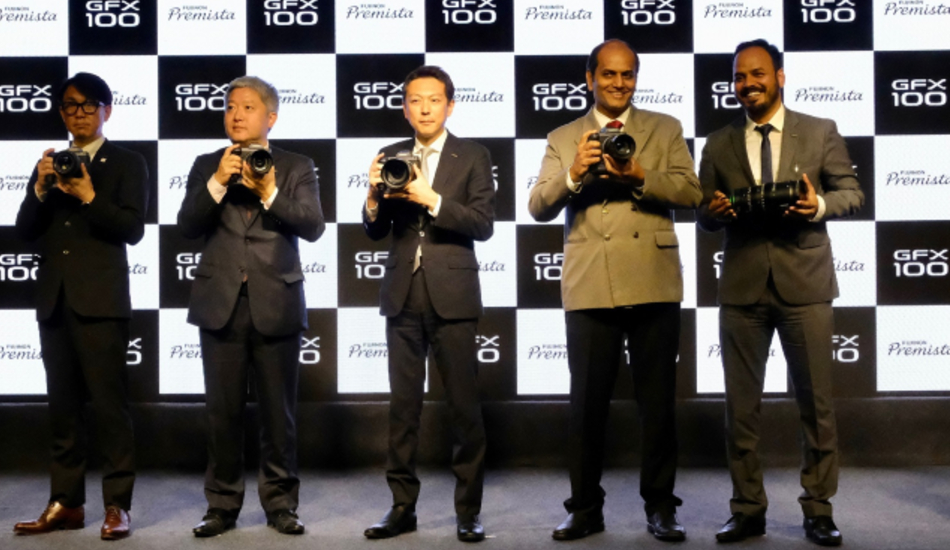 Fujifilm GFX range Brand Ambassador, Dabboo Ratnani, said "It is a matter of great pride for me to be associated with a cult brand like Fujifilm. The new GFX100 camera embodies a new standard of optical excellence with technological brilliance in new mount and optics; retaining Fujifilm's renowned legacy. Packed with powerful features, the camera displays Fujifilm's legendary artistry that will empower users to expand the realm of photographic capabilities. With this association, we look forward to an advanced mirrorless camera experience and witness a shift in the existing imaging industry to newer heights".
On the new 'Premista' series lenses, Cinematographer Palash Das said "I was recently honoured to shoot on the Premista 28-100mm large format zoom lens. The lens is indeed a breakthrough with crisper images and proper focal length coverage throughout the zoom range. It has a beautiful flare to it and the bokeh effect is also quite wonderful. My overall experience with the lens is nothing but fantastic and I will encourage more DOPs to use this zoom lens in Bollywood and across the world".
The Fujifilm GFX100 102MP mirrorless large format camera will be available in India for a price of Rs 7,86,999. The The Premista 28-100mm and Premista 80-250mm lenses can be bought for prices of Rs $38,800 (approx. Rs 26,66,000) and $39,800 (approx. Rs 27,34,000) respectively.