Fring, a popular cross platform IM and video chat application for smartphones, has added a new feature to its list. With the launch of the new Playgrounds feature, the Fring application will now allow smartphone users to video chat with up to three different users.
More importantly the application will now allow anyone to participate in Group Video discussions about subjects that matter to them using their smartphone.
With the new Playgrounds, Fring users will be able to actively engage in four-way Video discussions either by browsing a list of open Playgrounds or by creating their own video discussions about the topic of their choice on which they want to discuss with other users.
These four users of Playgrounds will be publicly visible to all Fring users who are using the latest application. Fring users will be able to video chat with others using Playgrounds feature irrespective of device type so an iPhone user can chat with and iPad, iPod Touch, Symbian or Android device users.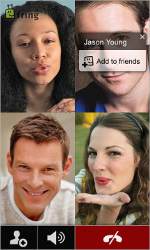 "Playground Video chat empowers users to video and voice their opinions about things that matter to them. We let users do more than simply 'follow' their interests. Now they can actively engage with others via video chat, instead of waiting for character-constrained updates," says Avi Shechter, chief executive officer and co-founder of Fring.
In addition to public Playgrounds, Fring users continue to enjoy free Group Video chat with their friends, two-way video, voice calls and text chat with friends on Android, iOS devices and Nokia smartphones.
Playground is available for free as part of the Fring mobile app available for download from Apple's App Store and the Android Market. Alternatively users can also follow the link to download application.