With Skype boosting their video conferencing capabilities and adding video stabilisation, Fring has also improved its own application and have added newer and better video conferencing features for Android users with its latest application update.
Fring has also updated the application and made it more responsive and secured by removal of several bugs, although details of the same are not available but the new update promises a better performance overall.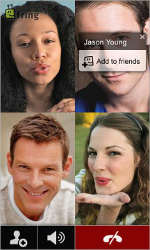 The Fring application makes use of the DVQ (Dynamic Video Quality) technology a creation by Fring labs. This technology ensures better video and audio transmission by automatic adjustment of the video and audio quality based on the type of internet connectivity available for the device.
But along with the upgrades and the improvements, Fring has also announced the closure of the Fring playgrounds Beta application. Now the Fring Playgrounds will only be available as a part of the original Fring application.
The updated Fring mobile app is available for download from the Android Market. Users can locate the application through their phones or alternatively users can also follow this link to download application.