Mozilla has launched a new version of its Firefox browser for Android devices. Mozilla has also worked a lot on this new browser, called the Firefox 15, in order to make it better faster and compatible for tablets as well.
The browser also gives tablet owners an option to select between viewing the mobile version websites as well as the desktop version websites. This feature is nothing new but a good addition as it has been there with Opera for quite sometime now.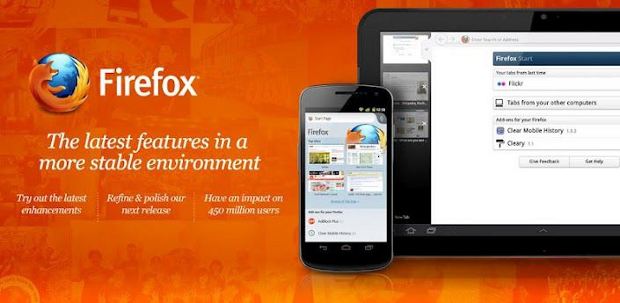 Android version of the Firefox browser although was compatible with Android 2.1 and above devices earlier but with the newer version, the Firefox will be available only on smartphones and tablets running Android 2.2 and above versions.
The Firefox 15 Android mobile web browser comes with a new redesigned home screen that delivers all of your browsing history, bookmarks, passwords and form data. Along with that there are newer tweaks to speed up the browsing experience both in smartphones and tablets.
Among the new inclusions is the integration of Flash for Honeycomb based tablets, bring support for many Flash based apps and videos. Besides, Firefox 15 now also brings support for HTML 5 websites.
Based on the same open technology platform as the desktop version, Firefox for Android ships with the highest level of privacy and security features in mobile browsing. Firefox respects your privacy and protects your security with features like Do Not Track, Master Password, HTTP Strict Transport Security as well.