Fcall, a free calling service provider, is offering up to 10 minutes of free calling for users in India every day for an unlimited period.
But what really makes F call different form other VOIP calling services is that it allows users to make calls even without having the need to have a dedicated application or even an active data connection on their devices.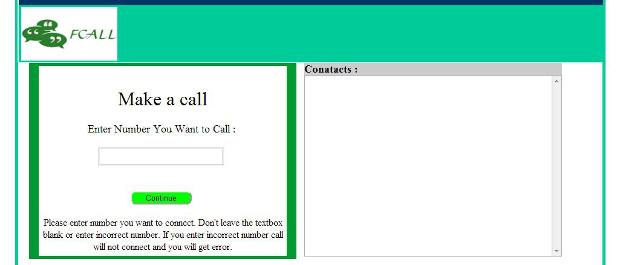 The service works very simply and as it is used to call any number across the country the web servers call the calling user's registered mobile number and then connects to the person being called, abolishing the need for data connectivity and applications as well.
While making a call using F call the users get a call themselves on their registered mobile and the same is them connected to the other person whom they wish to call. The service offers 10 calls of 60 seconds each per day to users and same can be sued to call up anyone across the country. The call made is valid for 60 seconds per call and the call will automatically disconnect after 60 seconds or if the receiver disconnects it.
All the users need to do is register for the service at Fcall.com and login with the details messaged on the registered mobile. Following that they can login and enjoy 10 calls every day of up to 60 seconds.
The users have no option to extend the 10 minute allowance for calling as the website has a advertisement based model. The website will earn money by displaying advertisements on the website and offering free calling to users as well.