In a new shocking development related to ChatGPT, Sophos, a cybersecurity firm has revealed the rise of fake ChatGPT apps that lures people into losing their hard-earned money. 
As it stands, the American AI Research Laboratory currently does not offer a ChatGPT app for smartphones. Users can access the web version for free by visiting the official website. Unfortunately, there have been reports of fraudulent individuals exploiting the lack of a mobile app to deceive unsuspecting users.
Also Read: OpenAI Introduces ChatGPT Plugins, Web Browsing Ability For Plus Members
Fake ChatGPT apps raking money from users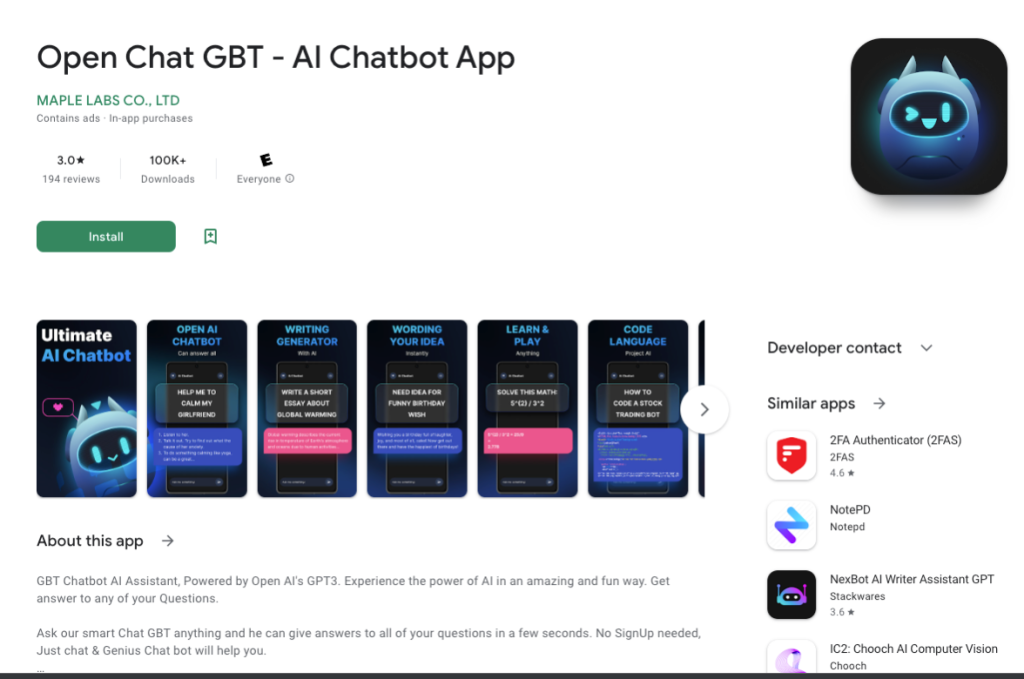 Fake ChatGPT apps are not a new phenomenon. Since the AI chatbot has seen a meteoric rise and continues to gain popularity even further, there has been a flood of fake apps promising ChatGPT-like services. If installed, these are often malicious and infect all smartphones with dangerous malware.
Sophos reports that the new crop of fake ChatGPT apps aren't malicious but instead, they are fleeceware. Fleeceware apps come with hidden, excessive subscription fees and bombard users with ads until they sign up for the paid membership. The free version has barely any features and this gives app developers the chance to coerce unsuspecting users into signing up for a premium subscription that can burn their money. Many of these fleeceware ChatGPT apps are free to install. They are poorly written and implemented, and the app function is still less even after a user switches to a paid version. Developers also inflate the app's ratings via fake reviews in the app store.
Although Apple and Google have store guidelines, Fleeceware apps are said to be designed to stay on the edge of what's allowed in the terms of service. So they are rarely rejected in review and are allowed to stay on the app store.
List of fake ChatGPT apps
The prices of the paid subscription on fake ChatGPT apps range from $10 a month to $70 a year. According to a report, a fleeceware app raked in $1 million in the last month. An iOS version of Chat GBT called 'Ask AI Assistant' charges $6 a week or $312 yearly. It brought in $10,000 for its developers in March this year. Below are the six apps that are identified by Sophos.
AI Chat – Chatbot AI Assistant
AI Chatbot – Ask AI Assistant
AI Chatbot – Open Chat Writer
AI Chat GBT – Open Chatbot App
Genie – AI Chatbot
Open Chat GBT – AI Chatbot App
The cybersecurity firm has reported all the above apps to Apple and Google with some of them already removed from the app store. However, Sophos believes that there could more fake ChatGPT apps out there. It's worth reiterating that there's no official app version of ChatGPT for smartphones and if you have any AI chatbot that promises ChatGPT-like features, then you should delete it.
Recently, even OpenAI CEO Sam Altman appeared before the US Senate to urge lawmakers about regulating the use of AI.