American AI research laboratory OpenAI has released new plugins and the ability to browse the web for ChatGPT. The chatbot's capabilities are significantly enhanced with these new features, greatly improving its performance. These new additions can potentially transform how people interact with the internet. Essentially, the chatbot will now provide more precise and current responses to current events. Furthermore, users will now have the ability to assign tasks to the chatbot using these new plugins.
Also Read: You can now stop OpenAI from using your chat history to train ChatGPT
ChatGPT Plus plugins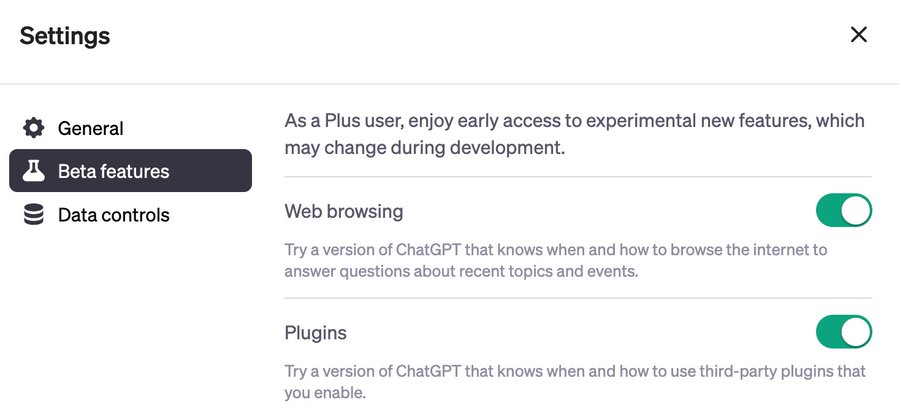 OpenAI has added over 70 new third-party plugins covering a range of various industries like travel, productivity, food, and more. Some of these notable plugins include Expedia, Kayak, Open Table, Instacart, Zapier etc. Users can install as many plugins as they want but can use only three at a time. These plugins can examine website content, visualise and analyse data, and do more tasks.
Please take note that the ChatGPT plugins are currently in the beta phase and are exclusively available for Plus users.
How to enable plugins in ChatGPT
if you are interested in enabling plugins in ChatGPT, follow the steps below:
Head over to https://chat.openai.com/
Select 'Plugins' from the model switcher
In the "Plugins" dropdown, click "Plugin Store" to install and enable new plugins
To enable ChatGPT's beta features, click 'Profile & Settings' > select 'Beta features' > toggle on the features you'd like to try.
Chat GPT web browsing
As for ChatGPT's web browsing feature, it will enable the chatbot to tap into the vast pool of information available online and deliver the best answer possible with the latest facts. Prior to the update, the AI chatbot was trained on data up to 2021. This made it useless to address queries relating to recent events.
The latest features are in the Beta stage and exclusively accessible to Plus members. After the beta testing, the features will be available to a broader audience. ChatGPT's Plus subscription costs $20 per month, providing subscribers with priority access to new features, quicker response times, and availability during peak periods.