Facebook has announced the launch of an app for iPad devices.
About the iPad app, the Facebook blog says, "Use your fingertips to scroll through your News Feed. Give the screen a swipe to page through albums. Pinch a picture to zoom in. Whatever you're up to, using Facebook on your iPad just feels fun. Photos really shine on the iPad. They're bigger and easy to flip through, like a real photo album. It's like having a slideshow with all your friends and memories, wherever you go."
With the app, you can chat with friends right from your iPad, for example, or play games and use apps in full-screen mode. You can also watch high-res videos inline, record HD video and stream to Airplay devices.
Facebook has also announced a mobile platform for the developers.
The Facebook engineer Luke Shepard says on the company blog, "We are at the beginning of bringing Facebook Platform apps to mobile, the features we are launching today are still under development. They will evolve as we learn more about building richer social experiences on mobile devices. In addition, we will extend our native support for more mobile platforms such as Android in the near future."
Earlier the popular Facebook features such as bookmarks, requests and news feed were not available on the mobile platform. From today onwards, if a user accesses Facebook through a third party app on mobile device, he or she will get a bookmark (for that app) which can be used whenever the native version of that app is installed by the users.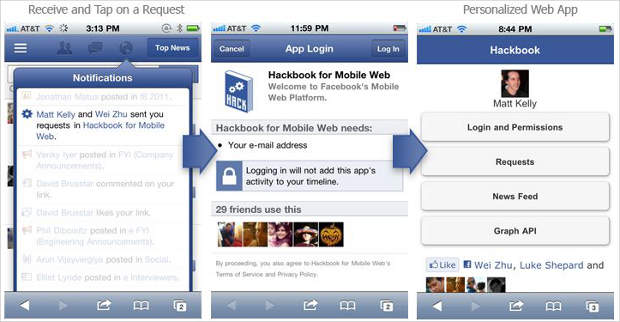 In simple terms, suppose a game is available both through a native app and Facebook. So you can now play the game on the native app as well as through Facebook. If the users tap on an app within the Facebook app, the native app will be launched, so Facebook now works as a platform for mobile apps within itself.
The Facebook blog further writes, "For example, if a user plays a move in a game on Facebook.com, their friend can respond from her iPhone. As with bookmarks, users will tap the notification and land directly on the mobile version of your app, whether it is a native iOS app or a mobile website."
Another feature being launched by Facebook is authenticated referrals which keeps the users connected to Facebook even if they are visiting a third party app through the Facebook app itself.