Facebook India has started prompting users to provide their Aadhaar details to create a new account on its platform. The social media giant has begun asking the details from limited users as a part of a small test in the country.
According to a screenshot posted on Reddit, Facebook is asking users to fill the First and Last name, which should similar to one present on one's Aadhaar card. However, the test is conducted on a limited group and not all new users will see such a prompt when they create a new account. Further, Facebook is not forcing users to fill the name based on the Aadhaar card and neither the brand is asking for other Aadhaar details, like the Aadhaar number, address and more.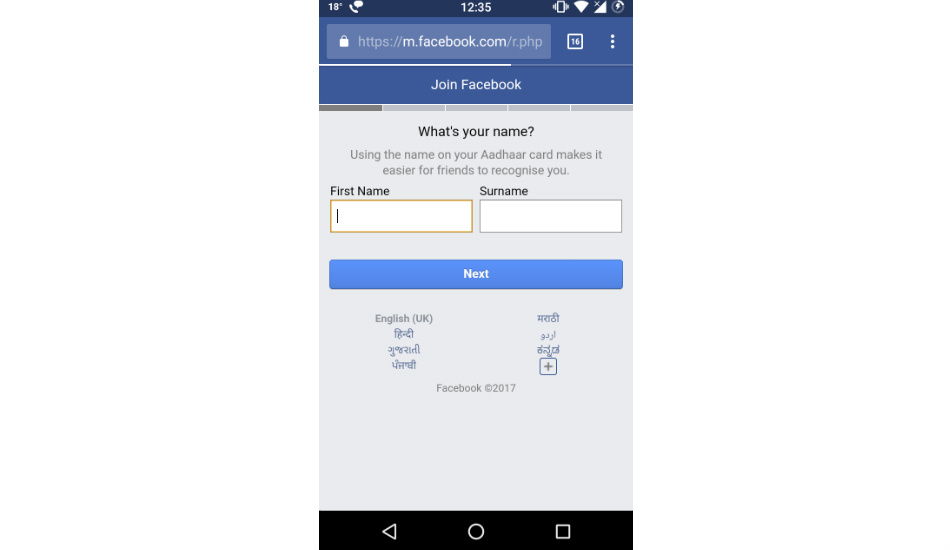 "We want to make sure people can use the names they're known by on Facebook, and can easily connect with friends and family. This is a small test where we provide additional language when people sign up for an account to say that using the name on their Aadhaar card makes it easier for friends to recognize them. This is an optional prompt which we are testing, people are not required to enter the name on their Aadhaar card," a Facebook spokesperson said in a statement.
With this, Facebook says that it is planning to curb fake accounts from its website. The company has recently announced new tools to prevent harassment on its site and Messenger platform. The tools have been created based on feedback both from users and organizations for groups that experience higher levels of harassment online, like women and journalists.
The new tools will proactively recognise when a blocked contact tries to send friend requests and messages to someone on Facebook through a new account. It will provide the user with an option of ignoring the unwanted conversations on the Messenger app without having to block the sender.
You might also like this:
These automated features will identify fake accounts more quickly and block millions of them at registration every day. It uses various signals such as IP address to proactively recognize fake accounts more quickly in order to prevent its owner from sending a message or friend request to a person who has previously blocked them.