The Facebook app for Android has received another update which brings new features like the ability to tag friends and places in posts. Users also get more privacy controls with an improved sharing tool and settings to match the website. Last week the Facebook app for iOS devices got new privacy options.
The update of Facebook for Android v1.7 app brings a couple of new options apart from fixing the issues leading to sudden crashes and performance lapses.
Profiles and Group Walls have a new design and look. Users can tag their friends as well as places in posts to be shared on the Facebook Wall. This feature makes the app work nearly as efficiently as it would be on a PC.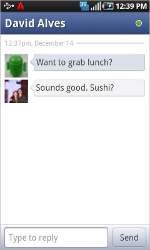 The most important improvement are the Privacy Controls to each posts. Users can now choose the group of people who can see the post. These controls will match the privacy settings previously made through the Facebook web interface.
Performance tweaks include better photo browsing while swiping between different images and tagging friends in the photos from the phone itself. This saves users the effort of having to log onto the web version just to tag friends. Apart from that, the Message and Notifications frequency has also been tweaked to function properly.
Get the latest version of Facebook for Android from Android Market.