Evernote has released an update for the iPad 2 version of its education centric application, the Peek.
Evernote Peek is by far the most interesting study centric application available for iPad 2 today. The functionality that makes this application unique is its interface and interactivity with the smart cover that gives it an almost book like feel. The Peek allows users to create books with both questions and answers that can be seen by lifting the smart cover in different ways.
The update has added audio clues to the application. Now, users can also record or insert audio files for easy remembrance of the answers just like a clue.
To demonstrate this, the application will also feature three new audio featured notebooks right after the update namely bird calls, Spanish language, French language. Users can also use this feature to create more interactive audio books for kids on the iPad 2 with this app.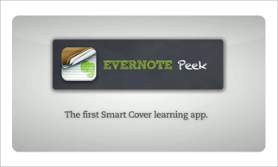 The second most important improvement in this application is the inclusion of book sharing option which allows fellow Peek users to share created books with others from within the application.
Evernote has also added a sort feature to the application that allows the users to sort the questions from within the notebooks to be features in orders selected by users be it random, time based or even date based.
The free to use application can be downloaded on the iPad 2 by simply connecting it to the app store via iTunes.