Evernote, a popular note-taking service, has now come out with an updated app which is optimised for the Android tablets. The updated Evernote app utilises the size of bigger tablet screens to provide more information to the users.
On the home page, the users get snippets of their latest notes, texts and pictures. Users can also create new notes, look at a map or search for something by going to the top of the home screen.
Once the users tap the search icon, they get a search bar but other contents present on the screen do not get minimised. The benefit is, users can conduct their search and get the results without leaving the page they are viewing. Whenever a note is tapped by the users, it expands to the entire tablet screen and if they tap and hold, they get 'Options'. Users can share, edit or even delete a note from here in the Evernote.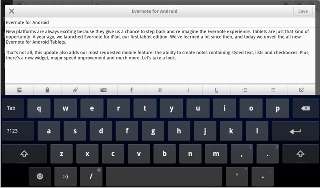 Users would also be able to edit and share rich text notes, and this feature would be available to Android smartphone users as well.
Talking about the app, Andrew Sinkov of Evernote, says, "Another great update for all Android devices is our new, larger widget. Tap and hold on the home screen of your Android device, then go to the widget menu. You'll now see two Evernote widget options &#151 small and large. In addition to letting you jump to core Evernote features, you now see snippets of your recently-accessed notes. This means you no longer need to launch Evernote in order to find a recent note, just tap on the note in the widget."
Overall, the updated app uses the Android tablet real estate (display) well. The notes are displayed in a clean grid. In the map view, the geo-tagged notes are displayed according to the location.