On and Off, a brand associated with manufacturing of creative and innovative products, has launched an universal tablet stand, named as the Dock Minimal.
According to the company, the stand accommodates any tablet irrespective of its size. The Dock Minimal has a flexible design that can be modified as per need to fit tablets including ones from Samsung, Apple and even from Amazon.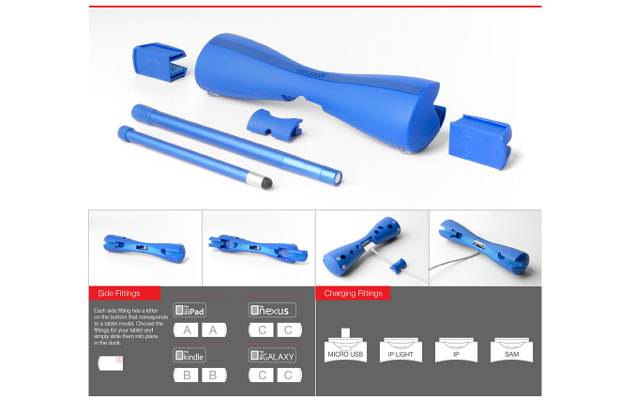 The Dock Minimal comes with replaceable charger/data port adapters that allow users to modify the dock as per the tablet's make and design. The Dock Minimal is made of ABS plastic that have been given a rubberised finish that enhances its look and feel. The base of the tablet has a non-slip feet as well so that the dock stays put in its position.


Apart from being a versatile dock, the Dock Minimal also comes with 20 different viewing angles for the tablet in both portrait and landscape modes. The tablet stand comes with a side stand that can be installed in the required slot to increase or decrease the angle of view as per user's liking.


Also included is a capacitive touchscreen stylus that slides right inside the side stand's cavity and comes in real handy for playing games or controlling the tablet without having the need to reach out till the display to get it working.
The Dock Minimal has been put up for sale through Indiegogo contribution program and interested users can buy the dock by paying a contribution of $25 (Rs 1,300) for the black colour one and $35 (Rs 1,900) for other colours such as Lava Red, Glacial Blue and Arctic White. Other options for Dock Minimal have also been made available and can be purchased here.