Amazon is reportedly working on a 7 inch tablet that will come loaded with the company's own version of operating system. The author of TechCrunch managed to get his hands on the device and got a confirmation from the company that the tablet will cost $250 (Rs 11,250).
Most likely to be branded Amazon Kindle tablet, it will have a multi touch 7 inch colour display, Android operating system, and a bunch of Amazon apps.
The Amazon tablet will carry an operating system built from scratch using the Android OS code, but the prototype unit did not visually indicate the presence of Android. The user interface of the tablet will complement the Amazon.com redesign that is currently being tested.
The tablet will carry all the Amazon Apps &#151 Kindle Reader, Amazon Cloud Player, Instant Video Player and Amazon App Store for apps. From the details so far it appears that the Amazon tablet will have an OS that supports a host of apps for cloud services.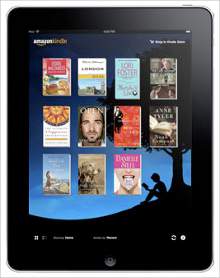 The hardware of the tablet would be pretty similar to that of rival Nook Color. Amazon tablet will have a two finger multi-touch capacitive display and won't have an e-ink version. The tablet will carry a single core chip and would offer about 6 GB on-board storage. The final version should carry a microSD memory expansion slot as 6 GB storage is too less for storing multimedia.
The Amazon tablet will be a WiFi only version as it seems the company wants a wider reach rather than the headache of carrier tie up. In terms of looks the tablet appears like the RIM BlackBerry PlayBook but with a rubber back for better grip. Unfortunately, Amazon won't add a camera to the tablet.
The upcoming Amazon Kindle tablet will compete with Barnes & Nobles' Nook Color in terms of pricing and form factor. Apparently this tablet is meant for reading books, watching movies online and listening to music. From the details, the tablet does sound interesting to voracious readers who wish to carry several digital books while traveling, and who also want to listen to music. Unless Amazon's cloud based music and instant video services are made available in several countries, the tablet's fate seems limited to the USA and a few other countries.