Dell has launched a convertible and a tablet based on Windows 8 operating system in India with XPS 12 Convertible and Latitude 10 Tablet.
XPS 12 convertible features a flip hinge touchscreen display which makes it work both like a ultraportable laptop with keyboard a tablet. The convertible is available for a whopping Rs 90,490 onwards starting today.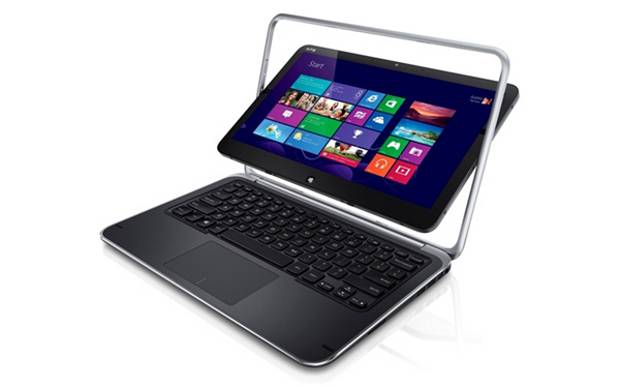 Dell XPS 12, boasts a 1920×1080 resolution on a 12-inch screen protected by Corning Gorilla Glass. It converts rather into a fully-functional tablet through a very interesting hinge design.


The XPS 12's price starts at whopping Rs 90,940 and comes with 3rd Generation Intel Core i5-3317U processor, 4 GB Dual Channel DDR3 RAM. Intel HD 4000 video card, and 128 GB of SSD.
The screen rotates 180 degree in its hinges that enables the device to be used as a laptop or a tablet.
The XPS 12 convertible is crafted from premium materials such as machined aluminum and carbon fiber, as well as Corning Gorilla Glass for durability.
The 10-inch Latitude 10 tablet on the other hand is a full fledged tablet and is also not a cheap option with prices starting at Rs 42,490 in India. The tablet features a 10.1-inch IPS touch display with a resolution of 1366 pixels by 768 pixels.
The Latitude 10 comes with an Intel 1.8GHz dual-core Atom Z2760 (Clover Trail) processor, 2GB DDR2 of RAM, and 64GB of storage.
Also included is USB 2.0, an SD card reader, miniHDMI, microUSB, 802.11a/g/b/n, Bluetooth 4.0, a front-facing webcam, and 8MP rear-facing camera, and Windows 8 32-bit.
You will also get an optional docking station with four USB 2.0 ports, HDMI, audio out, and ethernet as an accessory. Dell India has not announced price for the docking station though. All available as an accessory will be a Wacom Active Stylus.
The tablet is targeted at businesses with features like a replaceable battery and x86 support to run legacy Windows applications.
The tablet will be available by the end of November this year.