Dell has launched the Latitude 7400 2-in-1 laptop in India, months after unveiling the same earlier this year at CES 2019. Dell claims that the Latitude 7400 is the world's smallest commercial 2-in-1 laptop and is now offering the notebook to enterprise customers in India for a starting price of Rs 1,35,000 (excluding GST).
The new Latitude 7400 2-in-1 is the world's first PC to use a proximity sensor which is enabled by Intel's Context Sensing Technology. The 2-in-1 device uses ExpressSign-in to detect user presence and thus wakes the system and immediately scans for facial recognition to log in with Windows Hello. Additionally, the machines come with ExpressConnect for Bette WiFi connections and ExpressCharge for faster battery recharging.
The Latitude 7400 comes with a 14-inch screen inside a 13-inch machined aluminium body that weighs in at 1.36 kgs. In terms of design, the laptop comes with a hairline brushed design, diamond-cut edges and magnesium alloy bottom cover. It's also Dell's first Latitude hardware to use recycled ocean plastics packaging.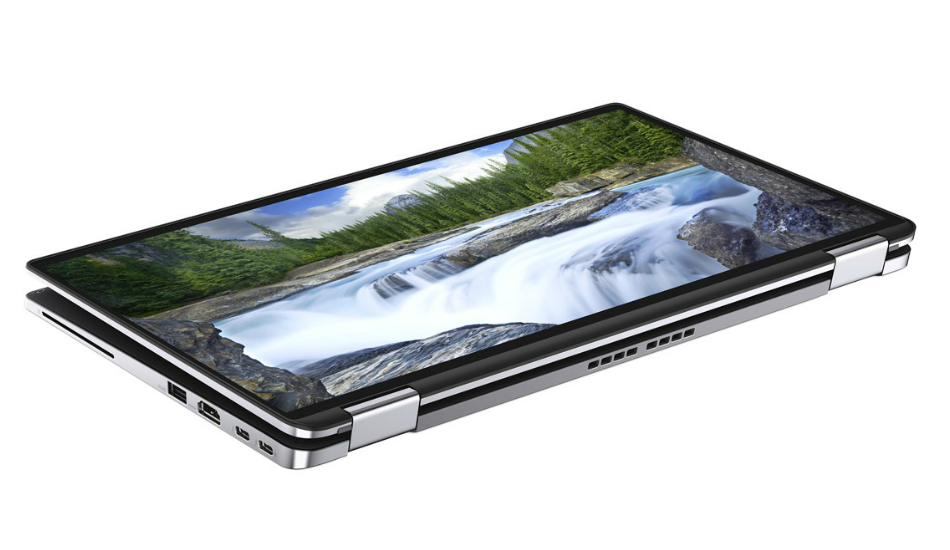 There's a gyroscope built on to the notebook which offers automatic detecting of the position of the laptop to switch it to tent, tablet or closed modes for longer battery. Dell says the Latitude 7400 will be able to last users to up to 24 hours on a single charge through the 78Whr battery. Dell ExpressCharge will be able to charge up the system to up to 80 percent in an hour. Connectivity options include Cat16 Gigabit LTE and WiFi.
Speaking about the latest product, Dell India Client Solutions Group Brand Director, Vivekanand Manjeri said "We are extremely excited about the Latitude 7400 2-in-1 and some of the exclusive 'Express' features that will help our enterprise customers experience productivity faster and without interruption. Building on our commitment to deliver thin and light products, this new 2-in-1 will be the smallest 14-inch commercial 2-in-1 with a smaller footprint. This has been made possible by an innovative new design with a drop hinge that allows for a narrow bezel on each of the four sides. This is one of the many unique features, and it maximizes the productive screen space. To deliver a device that is loved by today's professionals, we have designed the Latitude 7400 2-in-1 keeping in mind everything that is needed in a dynamic work environment".
Dell India Client Solutions Group Senior Director and GM, Indrajit Belgundi also commented saying "Today's multi-generational employees want the latest technology at work; they not only desire a portable and productive device, but also look for one that is responsive and aesthetically designed. In Dell's recent Gen Z survey, 91 percent of respondents said that technology would influence their job choice when looking across similar employment offers. At Dell, we are focused on delivering faster and smarter user experiences that get people productive more efficiently, and help them stay there, no matter where or how they work. Dell's Latitude portfolio is a testimony to our commitment of offering the most secure, manageable and reliable products for the last 25 years".
The Dell Latitude 7400 2-in-1 laptop will be available to enterprise users in India for a starting price of Rs 1,35,000 (excluding GST).