Dailymotion, a popular online internet based video streaming service, has announced the launch of its latest application for Android based devices.
With the use of this application, users will be able to view or stream live content from the Dailymotion catalog on their devices.
Dailymotion is a popular alternative to Google's internet video streaming service YouTube.
Dailymotion provides internet based video streaming to over 1.2 billion users worldwide from independent as well as premium content providers.
The application also allows users to create their personal video feed for the home screen of the application as well. This allows the users to see the desired categories of the videos every time they log on to the application or start it from the applications menu.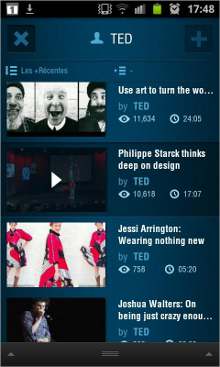 Along with that, users of the application can also choose and are able to customize their application's home screen according to their own preference.
Similar to the YouTube service, the Dailymotion Android application allows the users to follow video channels or users who post different videos. Besides, a universal search option has been added to the application allowing users to search for other users, videos and even channels.
Dailymotion's latest video streaming mobile application is compatible with devices running Android version 2.1 and above only.
It is advised to the users that they connect to a high speed internet source such as a WiFi hotspot or 3G to view and watch the video stream as it can take a while to buffer the videos using regular GPRS connection. Dailymotion stream is now available for download from Android Market.
Users who wish to install it can visit the Android Market from their smartphone or they can follow the link to download it directly.