GPRS mobile phone users will be able to watch Commonwealth Games 2010 live on there mobile phones using the Zoomi app. The live streaming service was launched last evening.
Zoomi, a product of Smile of India, is the official global mobile infotainment service provider to CWG. The application has a combination of sports, travel, local and global information available free of cost to the user.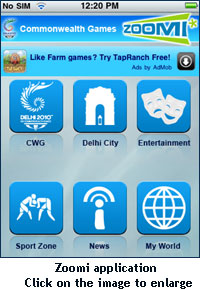 While the application already gives users the option of watching videos and pictures of events, live streaming has also been added to the list.
Although the company does not have exclusive rights for mobile coverage, it is at present the only provider offering live streaming of the games.
Vinish Kathuria, director, Smile of India, says the the product has been tested and works fine on 2G networks as well. He adds, "The application will show the latest happenings at Commonwealth Games 2010 within 5 seconds of the actual event taking place."
The company will aggressively market the product across TV, radio, print, mobile etc.
Kathuria adds, "The ban on bulk SMS has been a hindrance to publicity of our product. With the ban getting over today, we expect to take the application to the masses."
The Commonwealth Games, which commenced on October 3, will continue till October 14, in Delhi.