In the last few days, Google has been in news for its newly releasedPixel 3a and Pixel 3a XL smartphones and rightly so. But there are a few key things you might have missed and the biggest one of them is the fact that the latest Pixel phones don't have Gorilla Glass from Corning.
Instead, Google has gone with Asahi's Dragontrail Glass, which is something of a rare occurrence in high-end smartphones from top OEMs. But why would Google go for such a move? Is it just plain cost cutting or has the Mountain View giant observed something that no one has?
What's Dragontrail glass and who manufactures it?
Made by Japanese-based company Asahi Glass, Dragontrail has been a popular alternative to Corning, having been previously used by the likes of Xolo, Lava, Intex, Karbonn, Xiaomi and even Samsung. Asahi currently sells three variants of its display glasses – Dragontrail, Dragontrail X, and Dragontrail Pro. Of the three, the Dragontrail Pro is the company's latest smartphone glass, having launched in 2016.
Asahi's Dragontrail Pro has a hardness rating of 542-672 kgf/mm2, higher than Corning's Gorilla Glass 5, which was the predecessor of the Gorilla Glass 6 which was announced in July last year. In contrast to that, the Gorilla Glass 5 has a Vickers hardness of between 601 and 638. The glass is scratch-resistant and crack-resistant and offers resistance to high compression stress. We believe this is the model Google used in its latest Pixel 3a lineup.
While tests have been conducted to determine the impact and drop resistance of sapphire glass and Gorilla Glass, similar tests for Asahi's Dragontrail protection haven't been showcased yet. Asahi has only published a three-point test of being the impact of its Dragontrail Glass back in 2011. The only detail the Japanese company has revealed in the past has been that its latest product, Dragontrail Pro comes with 30 percent more durability than the previous generation protection, which means it is a stronger and more durable alternative to the Dragontrail X glass. The latter was touted to be eight times stronger than normal sodalime glass.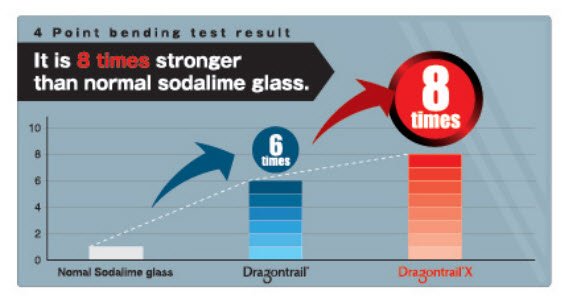 Why did Google go with Asahi's smart glass technology?
The jump from using the Corning Gorilla Glass 5 in the Pixel 3 and Pixel 3XL to the Dragontrail Pro in the Pixel 3a and Pixel 3a XL seems to be more about the company trying to cost-cut on manufacturing the more affordable phones in a cheaper way. While the flagship Pixel 3 only used the older Corning Glass technology, Samsung's Galaxy S10 and OnePlus' upcoming OnePlus 7 duo have employed the latest Gorilla Glass 6, which is touted to withstand 20 drops from 1-meter height.
Another thing to note is that Gorilla Glass 6 is also thinner with a thickness varying between 0.6mm and 0.8mm. Because of that, the latest protection from Corning offers improved wireless charging and support for large phones with small bezels. Since the Pixel 3a doesn't have wireless charging, it only seems sensible to use Asahi's Dragon Pro as it doesn't affect the phones' durability any other way.
| | | |
| --- | --- | --- |
| | Gorilla Glass 6 | Dragontrail Glass |
| Manufacturer | Corning, USA | Asahi, Japan |
| Glass Type | alkali-aluminosilicate sheet glass | alkali-aluminosilicate sheet glass |
| Manufacturing Process | Ion-Exchange Method | Float Process |
| Vickers Hardness Rating | close to 600-700 kgf/mm2 | 542-672 kgf/mm2 |
| Properties | scratch resistant, drop resistance, thinner, lighter than DragonTrail | better hardness, scratch resistant, impact resistant |
| Applications | Smartphones, tablets, wearables, TVs, laptops, | Smartphones, tablets |
There's one more way to look into why Google went with Dragontrail. Several flagship or high-end phones feature a unibody design language with a glass front and glass back panel, which might look premium but doesn't bode well with the durability of the phone. Having already gone for a polycarbonate, aka plastic, body which already scores more brownie points in drop resistant as compared to glass, it would make more sense to go with a scratch resistant front screen than an impact-resistant one.
Is this the push Asahi needed to rival Corning?
Having gotten popular since the jump to touchscreen phones, it's a possibility that Corning could be demanding high prices for its glass technology. Since its inception into technology with Apple iPhones, Gorilla Glass has been used by almost all high-end smartphones, even down to mid-range devices to add a sense of premium feel to handsets. Asahi's lesser popularity could thus have paved the way for Google to obtain the necessary glass protection without needing to spend some more in Corning's glasses.
Asahi had also revealed its presence in the folding display technology after it demonstrated an unnamed glass last year that could be used in bendable displays. The company, at the time, put forward that the bending stress of the glass comes in at around 1200MPa which was claimed to be equivalent to the "durability with a curvature radius of 2.5mm".
So what if there was an instance when Google used Asahi's latest Dragontrail glass with its more impact-resistant glass? We don't know yet but we will know more about Asahi's latest success or if it actually turns out to be one as the days pass.