We all love comic books, but carrying them is a bit of task in itself. So to have comics on one's mobile phone is surely an enticing offer.
Fortunately, most publishers have realised the possibility and have tied up with various service providers to offer mobile comics.
Airtel
India's largest service has content on more than 300 Indian and international comic characters including Doga, Nagraj, Akbar, Birbal, Tenaliraman, Jataka tales, Love Is, BC, Animal Crackers, Popeye and Dick Tracey, as well as comics from Amar Chitra Katha.
You can access these comics through Airtel's mobile entertainment portal, Airtel Live.
Airtel customers can access the service by texting "COMIC" to 54321. The comic strips are compatible with all GPRS-enabled handsets, and cost Rs 10 per week for 10 comic strips (inclusive of data charges).
Vodafone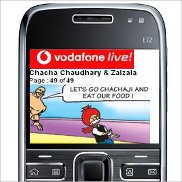 Apart from Amar Chitra Katha, it provides a lot of other comics through a service dubbed Chhota Comics.
With the Vodafone Chhota Comics service, postpaid and prepaid subscribers can access small comic strips as well as full length comics of popular Indian and international characters such as Chacha Chaudhary, Mickey and Donald, Suppandi, Akbar Birbal, Winnie the Pooh and Bal Hanuman.
These comics cost Rs 2 for a short strip and Rs 15 per full length comic.
The Vodafone comic service is available on its GPRS portal Vodafone Live! To subscribe, customers can SMS 'COMIC' to 111 to download the application and purchase the desired comic.
Currently, more than 35 popular titles are available under various categories on Chhota Comics.
Tata Docomo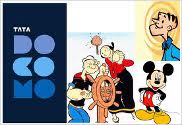 Tata Docomo, the GSM service provider, is among the leading operators to offer comic services.
Its comic viewer app for mobiles, called Docomics, has a good collection that includes Spider-Man, X-Men and more.
The viewer app allows users to download new comics while viewing collections frame-by-frame with simple clicks.
Interestingly, Tata Docomo provides moving images and vibration effects in sync with actions in the comic.
The comic service costs subscribers Rs 15 per chapter and does not entail any data charges within home network locations. Service charges are on the high side as users are charged on a per chapter basis rather than on consumption period. Docomics has also added Marvel Comics to its fold.
Aside from Docomics, Tata Docomo has a mobile portal with a range of about 2,000 titles from Suppandi, Birbal – The Clever, Bhagat Singh, Mickey Mouse, and Winnie the Pooh. It is called Comix-on-the-go and runs on on all Java and Symbian handsets. To access this service you need to visit the Dive-In (wap portal) on your Tata Docomo phone and click Comix-on-the-go.
The charges are Rs 3 for small scripts, Rs 10 for short stories and Rs 20 for full comics.
Reliance Communications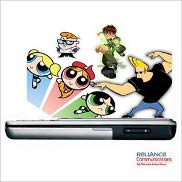 Reliance Communications offers cartoon network comics for Rs 1 per day. Comics of Ben 10, Johnny Bravo, Dexter's Laboratory and the Powerpuff Girls, Archies comics, Charlie Chaplin and Laurel and Hardy are all available to users.
There are no other charges involved. The service is cheapest in the industry as there is no need to pay for a particular episode. By paying just a one time charge you can watch multiple episodes.
The 10 day pack costs Rs 10. You can access these cartoons by visiting RWorld (wap portal) on our phone.
Applications
Graphic.ly provides digital comics for sale, download, and reading through Android and iPhone apps.
The app has titles from Marvel, and about 150 other publishers that include some free issues as well. Users can also enjoy comics on a web based app or a desktop client through a Graphic.ly account.
There is cross platform support as well, which means comics bought on mobile apps will also be available through the web based app and on the desktop client.
Users should make sure they read the instructions; otherwise even simple things such as zooming in to read text might appear difficult.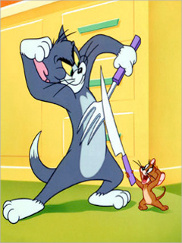 The app is available on Android Market free of cost (they charge for the comics, of course). It works on all devices that run Android 2.1 or better.
Graphic.ly is an integrated reader which acts as a storefront too so you can buy and download your favourite comics on it.
The Android version of Graphic.ly will have to compete with Comixology (another Android-based comic app), which too provides apps on comics.
Diamond Comics
Diamond Comics has tied-up with rediff.com to offer titles such as Chacha Chaudhary, Pinky, Billoo or Raaka on mobile phones.
There are options of vintage comics such as Panchtantra, Ramayan, Mahabharat and Tenalirama as well.
To read your favourite comics you need to SMS 'Chacha' to 57333 from your mobile phone. Alternatively, you can log on to mobile.rediff.com from your GPRS enabled phone.
Telecom operators charge Rs 10 for a day's session of unlimited access to the entire library.
Dilbert
For Dilbert fans there are free official Dilbert applications on BlackBerry.
appworld.blackberry.com, Nokia, and iPhone.
With these applications, you get immediate access to your daily Dilbert comic dose as well as more than 20 year old archives of the entire Dilbert collection on your mobile device.
Conclusion
The benefit of mobile comics is not just limited to anytime-anywhere availability; they are cheaper too.
If you are not able to get you favourite cartoon character on the phone you can certainly write to us.