Google originally designed the Chromebooks to be used primarily while being connected to the Internet, with most applications and data utilising Cloud technology. By 2012, schools had become the largest category of customer for the Chromebooks. Here's how Google describes Chromebooks with regards to certain areas; For what matters most – Chromebooks are easy to use, have virus protection built in, and keep going with a long-life battery, so you can, too. Stays fresh, all by itself – Chromebook updates itself, for free. So you always have the latest version.
No need for manual downloads and upgrades. For being ready when you are – No set up needed, just log in with your Google account. No long load times, just flip it open and get busy doing anything other than waiting. And with a long-life battery, you can leave your charger at home. For picking up where you left off – Chromebooks stay synced with your Android phones and tablets, and everywhere you're signed in with your Google account – so your stuff stays with you, even when your laptop doesn't. For work and play – Chromebooks give you the best of Google. Gmail, Maps, Docs and pics safely stored in the cloud, so a laptop spill is just a laptop spill.
Let's see the inclusive pros and cons of this piece of technology.
Pros:
Affordability and Portability:
To begin with, Chromebook is one of the best cost cutting devices. One can afford to buy a reasonably decent Chromebook within a range of $250-$400. (Rs 16101.38 –Rs 25762.20) Given that the device is smaller in size, it is convenient along with its lightweight designs.
Protection and Maintenance:
Chromebook is economical as it does not require any special software to run its programs, which would have otherwise gone on maintaining and installing different software. Moreover, this also reduces the risk of malware hitting the device which plagues the operating system. Chromebooks do not have additional hardware parts, thus seldom require mechanical maintenance.
Rebooting and Battery Life:
Chromebooks take about 10-20 seconds to start which means they've an excellent reboot speed. Reboot is an amount of time taken by your device to kick off. For the most laptop, it nearly takes half a minute or so. To add to it, Chromebooks also have batteries which keep them alive for longer than the average laptop. Some models are said to last more than 12 hours.
Automatic Back up:
One of the best attributes of a chromebook is the fact that it gets upgraded and backed up automatically. Manual upgrade or back up is never required. When a new version of the Chrome OS is available, the system itself upgrades the new version in the background.
Chrome browser technology and Storage space:
If you are specifically looking into internet browsing, Chromebook will do a great job, for it is pretty potent in execution. Because the Chrome OS is small, the computer can be quite fast for the amount of installed memory. Moreover, all Chromebooks get 100GB Google Drive Storage which adds to the significant features.
CONS:
Accessibility:
Chromebooks are designed to work when you're connected to the internet; hence it cannot be operated in offline mode. Although Google offers versions of the offline application, most of them don't work in an offline mode.
Online Storage Drawback:
Chromebooks typically have a storage space of 16 GB. Thus one cannot store large files in it, unlike the usual laptops. And for retrieving data from cloud storage, one would need constant online access.
No other software:
Chromebooks can only run Google products. No other products can be installed in it.
Limited applications:
You cannot use Image Editors like Pixlr, thereby working on photographs is a difficult task. It restricts you to a certain kind of editor which might not give you a variety of options. The same kind of experience applies to popular apps like Adobe Photoshop.
Printing Difficulty:
Connect printer through local WiFi network, or using direct cable connection is not possible. Printing is available only through Google Cloud Print service. It can be a challenge for some users, especially the ones with older printers.
Best Deal!
Some of the Chromebooks to look out for are:
Samsung Chromebook Pro – It's a laptop! It's a tablet! It has a stylus! You can fold it backwards! You can draw on it! The Samsung Chromebook packs some nifty features, including 4 GB of memory, an accelerometer and gyroscope (so you can play games that require tilt to steer and other features), two USB C ports (both of which can charge the device and support 4K displays). It comes with a 32 GB hard drive, but also includes a media card reader slot for a micro SD card. The battery lasts between 6-7 hours with heavy usage. The 12.3 inch screen sports a 2400×1600 pixel LED touch display.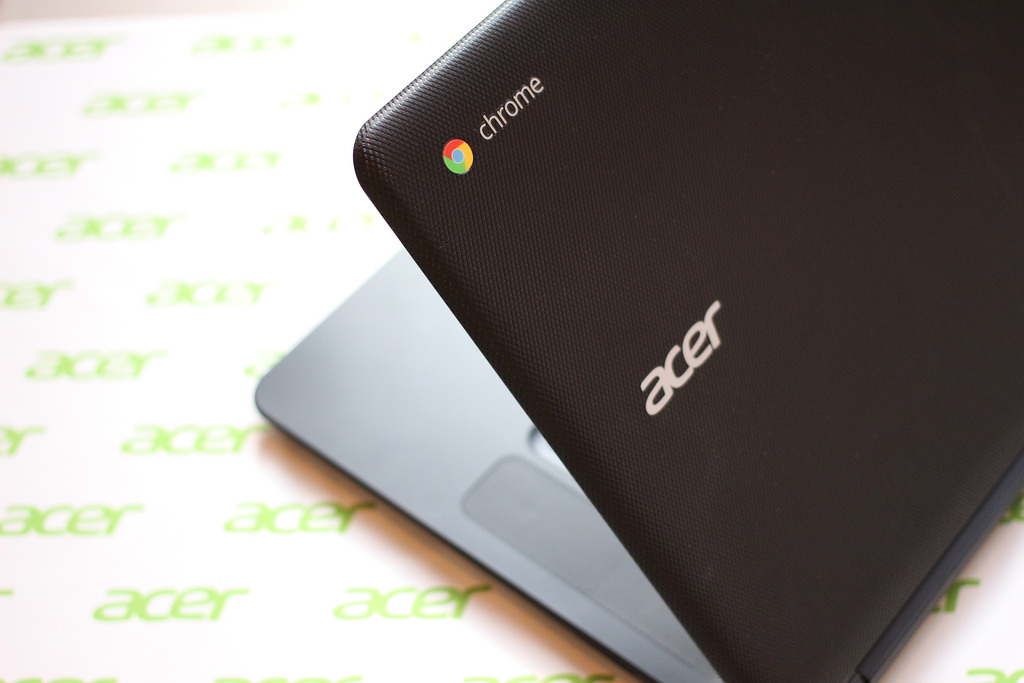 The Acer Chromebook 14, is the best deal to pitch on at the moment. The 100 percent Aluminum Chassis with a 14 inch Full HD IPS Display (1920 x 1080 resolution) makes it worth spending Rs 35,986 on. It comes with a storage capacity of 32 Gb, along with a processor of Intel Celeron N3160 which gives a processing speed of 1.6 GHz. It can usually survive up to 11.5 hours a day. It is available on Amazon.in.
Dell has a variety of Chromebooks within the range of Rs 24,290-Rs 32,390.