A research paper has concluded that Google's servers collect 10 times as much user data from an Android phone than Apple does from its iPhones. The news comes in the aftermath of a class action lawsuit against the Mountain View company for wrongly storing your location data even when the service is turned off.
According to a research by Professor Douglas Schmidt of Vanderbilt University, an Android smartphone in its idle state sent location data to Google about 340 times over the course of 24 hours with Google Chrome running in the background. That's 14 different occasions of sending data to Google servers in an hour and at the same time, that's 50 times more than what an idle iPhone running Safari sends to Google. This meant that Apple devices don't send much data back to Google when an iPhone isn't actively being used.
In terms of the amount of data sent to the Google servers, an Android device sent as much as 4.4MB of data per day in contrast to an iPhone which only sent 0.76MB data to Google. To put things into perspective, an iPhone only sent a mere 0.64MB of data to Apple through an entire day, lesser than what an iPhone sends to Google's servers.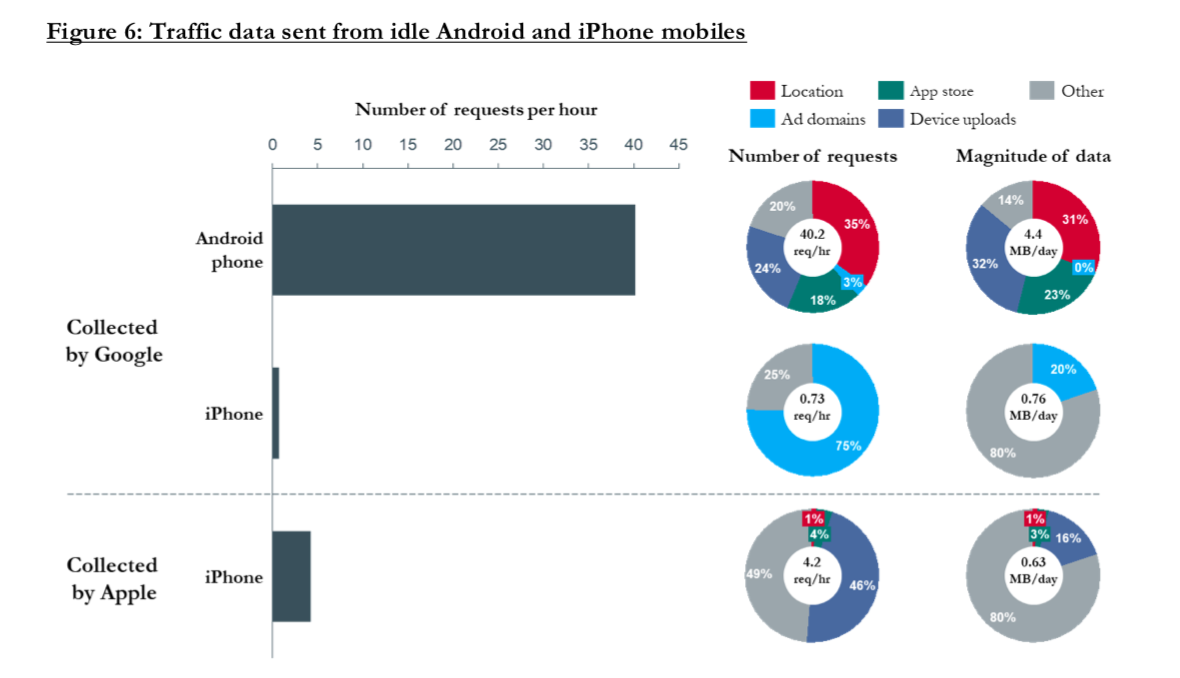 And we didn't even get to the scary part yet. Since Apple only allows location data collection from its own servers, Google isn't equipped to track your movements. Thus the data collected by Google from an iPhone is mostly Ad domains and miscellaneous bits. The same on an Android phone is a whole different scenario.
Of the 4.4MB of data collected by Google from Android phones, 31 percent includes your location stats, meaning Google knows if you're walking, running, driving a car or if you're on a flight. All that without you even using your phone actively. Yes, Google's data collection efforts occur when the user is not even directly engaged with their smartphone. That's a scary thought since there are 2 billion people in the world with an Android phone on their hand. Google also collects anonymous data from an Android device to create accurate profiles for a user and that amounts to another 32 percent of the data collected on a per day basis.
So, does Google have enough information about your interests or your past? Maybe. And that's how it serves you with personalised ads that you might find interesting. Since its primary business is advertising, Google depends on several kinds of data, unlike Apple which mostly works on hardware. Keeping all that in mind, it's of no surprise that Apple is proud of their stance in privacy when attacking its competitors, the biggest of that being Google.