Google was criticised last week for storing user's location history even when a smartphone's GPS service is turned off. Investigated by the folks at The Associated Press, Google was found guilty of tracking users' movements while performing certain tasks like search for a location on Google Maps or making Google Search queries with the Location History turned off.
At the time of the investigation, the help page at Google's Location History read "With Location History off, the places you go are no longer stored". Google has now updated the language of this location history policy and has now admitted to the fact that it continues to track you even with the setting turned off.
The latest description of the support page on Location History clarifies that "turning off the location setting does not affect other location services on your device, like Google Location Services and Find My Device". This means even if the setting is kept off, Google will be tracking your activity for some of its services like Maps and Search.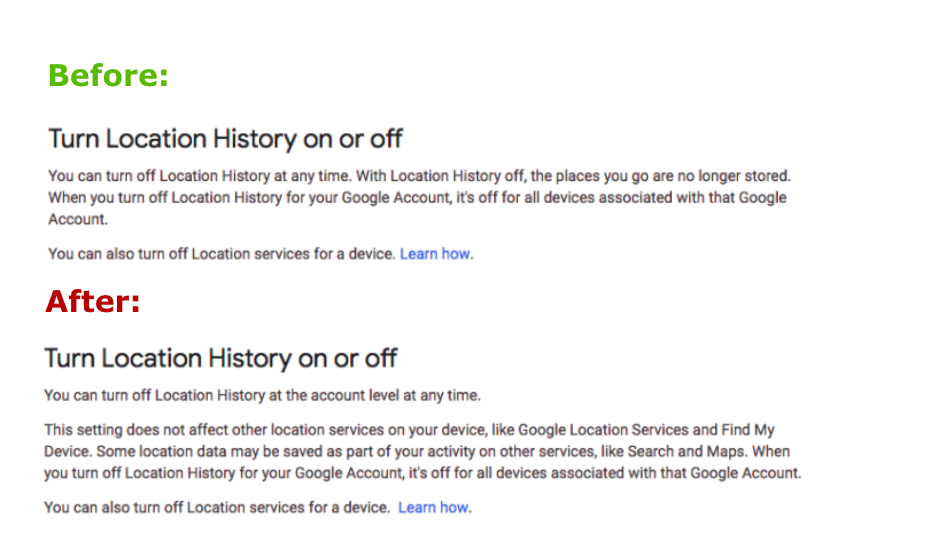 However, users can turn off location storage "at the account level" at any time, meaning no location history will be stored for that particular Google account. To do this, users will need to head over to "Web & App Activity" under Google'sActivity settings. You'll now have an option to turn off data collection and the option will be available through the Google app on your Android phone or by heading over to Account settings through a browser on your computer. Users will also be able to view and delete their searches and browsing activity by visiting the My Activity page.
As a reply to the report by the AP, Google replied by saying "There are a number of different ways that Google may use location to improve people's experience, including Location History, Web and App Activity, and through device-level Location Services. We provide clear descriptions of these tools, and robust controls so people can turn them on or off, and delete their histories at any time".
While users now have the option to completely turn off location collecting from Web & App Activity settings, it's to be noted that toggling the location services feature off will hinder some Google features like queries inside the Google Assistant.