At the Consumer Electronics Show 2023, both Intel and Nvidia have announced new hardware including he 13th Gen Core CPUs, GeForce RTX 4070 Ti, and RTX 40 series laptop GPUs. The new GeForce RTX 4070 Ti will be available from OEM partners and Nvidia will sell its Founders Edition graphics card directly, priced at Rs 80,000 in India.
Intel 13th Gen Core CPU Lineup
Now, talking about the 13th Gen Core CPUs from Intel, there are 32 new mobile CPUs across the HX, H, P and U series that have been announced. These CPUs are aimed at different segments, from high-end gaming to thin-and-light laptops. Over 300 new laptops sporting these CPUs are expected to make their way to market this year, from companies including Dell, HP, Acer, Lenovo, Asus, Razer, MSI, and Samsung.
The top-end CPU in the Raptor Lake family is the Core i9-13980HX which features eight performance cores and 16 efficiency cores. It has a peak speed of 5.6GHz, a base TDP of 55W, and support for up to 128GB of DDR5-5600 RAM as well as PCIe 5.0 connectivity. There are a total of nine HX CPUs in all, across the Core i9, Core i7 and Core i5 tiers.
According to Intel, its OEM partners will introduce 60 laptops based on 13th Gen HX-series CPUs. The 45W H-series CPUs, that have 11 new categories of CPUs, have a slightly lower set of specifications and are aimed at content creators and gamers who aren't looking for those ultra thin and light laptops.
For desktops, Intel's 13th Gen family includes mainstream models without overclocking support. These models have 35W and 65W target TDPs and will be compatible with 700-series as well as previous-gen 600-series motherboards. These should be available separately in a retail box packaging as well as in pre-built OEM PCs. There are three new 8+16-core Core i9 models, three new 8+8-core Core i7 models, and seven new Core i5 models with either 6+8 or 6+4-core configurations.
The new Intel N-series branding is replacing the previous Celeron and Pentium monikers which were employed in entry-level machines. Aimed at desktops and laptops running Windows as well as Chrome OS, these CPUs will target the education markets and those looking for value for money offerings. They have up to eight efficiency cores as the 12th and 13th-gen CPU lineups, based on the 'Gracemont' architecture.
Intel's Core i3 product tier now also includes its N-series models. Intel promises up to 10 hours of HD video playback, 4K HDR video output, HEVC and VP9 media encode/decode as well as AV1 decode support, and modern platform-level connectivity including Gigabit Wi-Fi.
Lastly, Intel also announced new 28W P-series and 15W U-series CPUs with up to 14 cores (six P-cores and eight E-cores) plus integrated Iris X graphics. These CPUs are aimed at mainstream laptops for day-to-day workflows. Intel says that these processors have integrated Gigabit Wi-Fi and Thunderbolt across segments.
Read More: JioGamesCloud onboards Nvidia GeForce Now for cloud gaming in India
Nvidia GeForce RTX 4070 Ti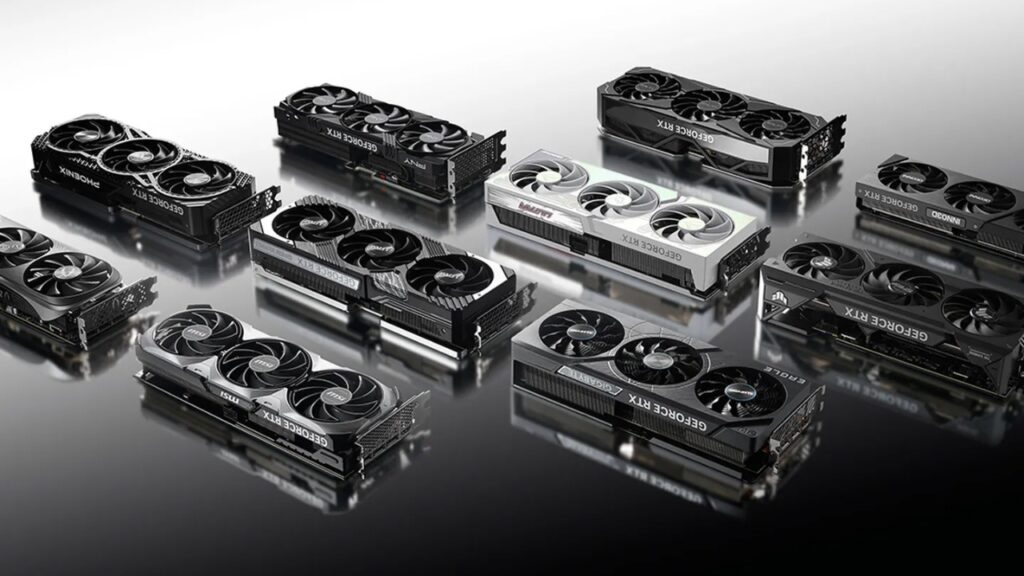 The new GeForce RTX 4070 Ti is based on the current-gen Ada Lovelace architecture and is the successor to the GeForce RTX 3090 Ti. It features 7,680 CUDA cores and 12GB of GDDR6X RAM on a 192-bit bus. It has a 285W TDP rating. It features the DLSS 3.0 technology used for upscaling games. Aside from gaming, the GPU is claimed to deliver 70 percent better performance in content creation applications when compared to the GeForce RTX 3070 Ti. There would be twice the increase in speed when exporting edited video.
The company also unveiled a lineup of mobile GPUs during its CES 2023 online keynote. The new GeForce RTX 4090, GeForce RTX 4080, GeForce RTX 4070, GeForce RTX 4060, and GeForce RTX 4050 are said to be up to 3X more power efficient. Flagship models with these CPUs are set to go on sale starting at $1,999 (approx Rs 1,65,455 excluding taxes) in the US beginning February 8 while mainstream models priced at $999 (approx Rs 82,685) are slated to go on sale beginning Feburary 22.