Republic of Gamers(ROG), a sub-brand of Asus has announced the launch of its latest lineup of gaming gears and laptops at the CES 2018, which the brand claims is specially designed to enable gamers to enjoy and create their own battle station. The list includes the ROG Strix SKT T1 Hero Edition laptop, ROG Strix GL12 desktop, ROG Strix Flare RGB mechanical keyboard, ROG Aura Terminal addressable RGB controller, ROG Spotlight RGB projection light and Bezel-free Kit display accessory.
ROG Strix SKT T1 Hero Edition
Starting with the ROG Strix SKT T1 Hero Edition, it is a limited edition gaming laptop powered by an Intel Core i7-7700HQ processor and NVIDIA GeForce GTX 1060 6GB graphics. The laptop features a 15.6-inch LED backlit Full HD display with the resolution of 1920×1080 pixels. It has a 120Hz Anti-Glare Panel with 72 percent NTSC with 178-degree wide-viewing angle display.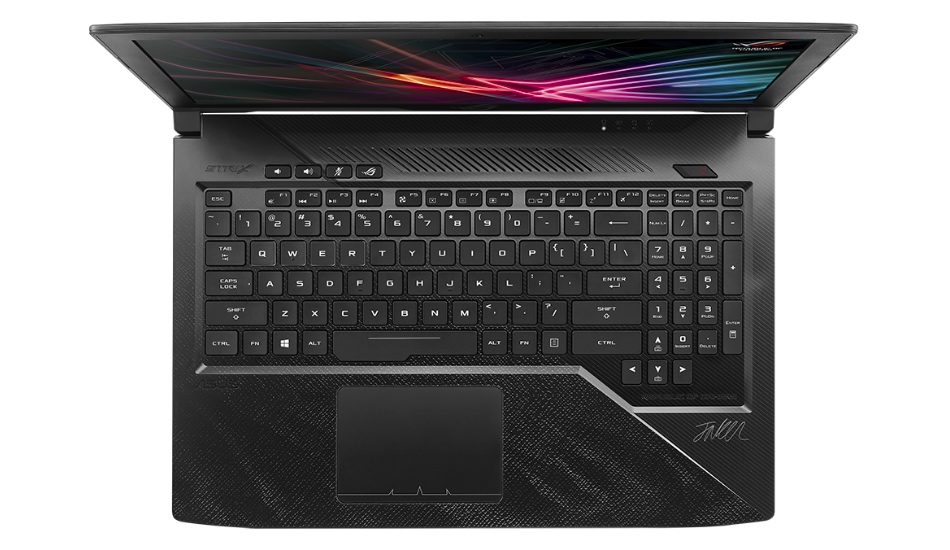 It comes with the RGB-backlit keyboard. The Strix SKT T1 is backed up by 16GB of RAM and 1TB Hard drive/256GB SD storage. On the connectivity front, the laptop comes with WiFi, Bluetooth, a headphone jack audio jack, a Type C USB3.0 (USB3.1 GEN1), four Type A USB3.0 (USB3.1 GEN1), an RJ45 LAN Jack for LAN insert, an HDMI and a mini Displayport.
ROG Strix GL12
The ROG Strix GL12 is a gaming desktop powered by up to a factory-overclocked 8th Gen Intel Core i7-8700/8700K processor (up to 4.8GHz hexa-core) and NVIDIA GeForce GTX 1080 8GB graphics. The desktop has an 8GB of RAM which is further expandable up to 64GB DDR4 and on storage front 1TB of hard drive expandable up to 2TB with 256GB of SATA SSD up to 512GB.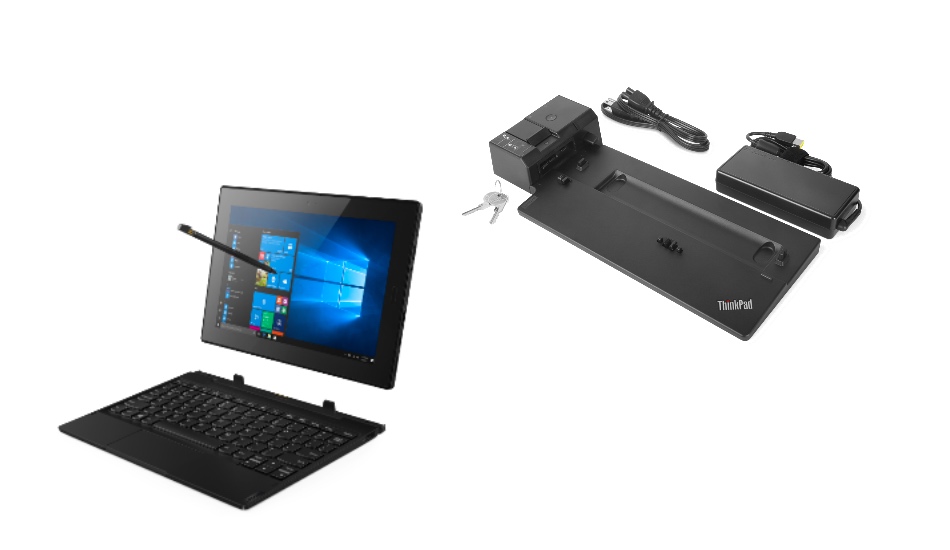 It has is equipped with the WiFi 802.11ac and Bluetooth 5.0. At the front, the desktop comes with a 2 -in-1 Card Reader, two USB 2.0, three USB 3.1 Gen 1 Type-A and a mic in/headphone out. And on the back, it has two USB 2.0, two USB 3.1 Gen 2 Type-A, four USB 3.1 Gen 1 Type-A, an RJ45 LAN, an Optical S/PDIF out and five Audio Jack. Further, the ROG Strix GL12 comes with a Keyboard, mouse, power cord, warranty card and quick manual.
ROG G703
ROG G703 is claimed to be the world's first gaming laptop with a 17.3-inch Full HD wide-view display (1929×1080 pixels) with NVIDIA G-SYNC technology for a 144Hz refresh rate. It is powered by the factory-overclocked 4.3GHz Intel Core i7-7820HK processor and NVIDIA GeForce GTX 1080 8GB graphics with a maximum boost clock of up to 1974 MHz. It runs on the Windows 10 operating system and weights 4.7 Kg.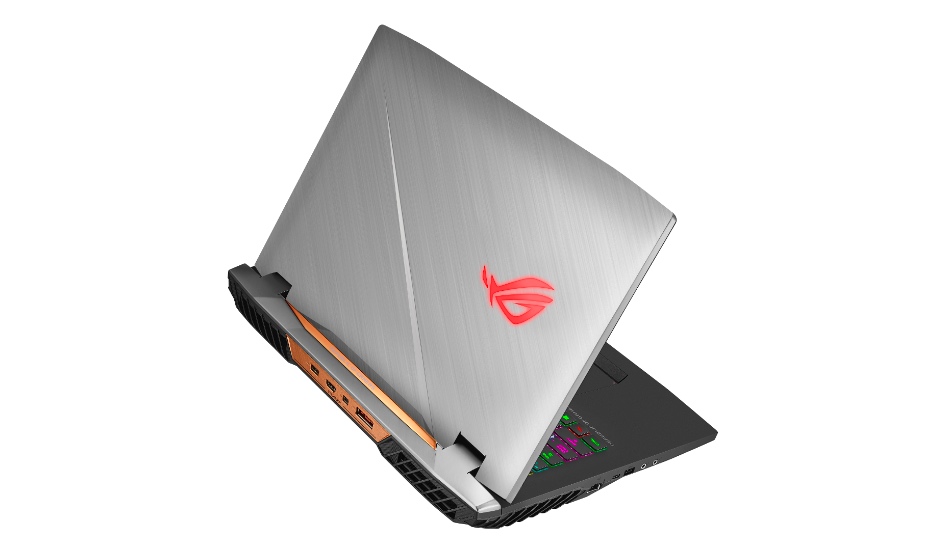 On the storage front, it supports up to 64GB of RAM and 2TB of SATA HDD internal storage. Further, it comes with Bluetooth V4.2, integrated WiFi 802.11 AC, two Headphone jack, an SD card reader, a mini DisplayPort, four Type A USB3.0 (USB3.1 GEN1), an RJ45 LAN Jack for LAN insert, an HDMI and a Type C USB3.1 (GEN2) Thunderbolt.
ROG Strix Flare, ROG Aura Terminal and Bazel Free Kit
The ROG Strix Flare is an RGB mechanical gaming keyboard that company claims to provide a combination of top-notch performance and ergonomic comfort. It has dedicated media keys, including a convenient volume wheel, are located on the upper left of the keyboard for instant access, so the gamer's right hand can remain on the mouse at all times. A USB pass-through port lets gamers connect a mouse or other device, and a detachable wrist rest provides extra comfort during extended gaming sessions.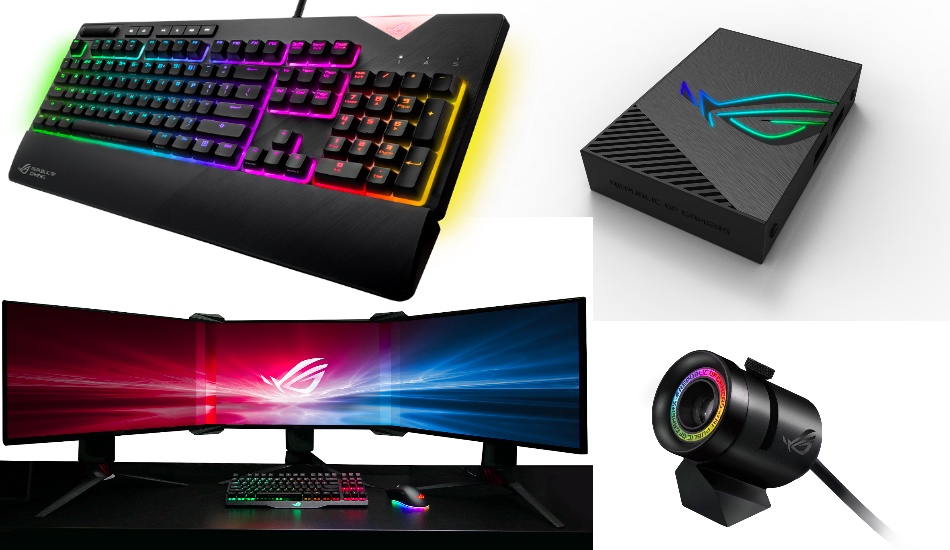 ROG Aura Terminal is a quad-channel addressable RGB controller with Halo technology, which enables system lighting effects synchronized to in-game action. When LED strips are mounted behind a monitor, ROG Halo instantly determines the colours displayed at the edges of the screen and illuminates the LED strips with matching colours, creating a dynamic halo of lighting around the display for captivating gaming. Other than this it can also be mounted on or inside the PC case and by connecting to Aura Sync devices it can create unified system lighting effects.
The Bezel-free Kit is an accessory for multiple-monitor setups gamers, it visually eliminates the gaps between the connected display, creating the appearance of one extra-large monitor for a totally immersive gaming experience. The Kit consists of vertical lenses and mounts that connect the edge of each monitor at a 130-degree angle. The device does not require any software or power to operate, it only uses light refraction to make the monitor edges disappear to the viewer.
You Might Also Like