Acer has officially announced its first quad-core mobile processor and full 1080p HD native display bearing tablet &#151 Iconia Tab A700, at the Consumer Electronics Show 2012 in Las Vegas, US. The Iconia Tab A700 features 1.3 GHz Nvidia Tegra 3 processor and runs Android 4.0 Ice Cream Sandwich with custom Acer user interface.


The Mobile Indian reported about the Acer Iconia Tab A700 in making and also the first official images of the tablet that were spotted online. As mentioned in those reports, the next generation tablet has now been announced with full 1080p HD display and a quad-core mobile processor. Both these technologies certainly add value to the heavy media consumers looking forward to such compelling device.
Acer Iconia Tab A700 tablet features a 10.1-inch touchscreen display that natively support (WUXGA) 1920×1200 pixel resolution. That means it can support 1080p HD video resolutions natively where 1920×1200 resolution usually found in the full HD supporting computer monitors with 16:10 aspect ratio.
Under the slim body, the A700 tablet holds a quad-core 1.3 GHz Nvidia Tegra 3 mobile processor, previously code-named as Project Kal-El. This new Tegra 3 processor is claimed to be three times faster than the Tegra 2 processor.
Acer will offer the Iconia Tab A700 tablet with Android 4.0 Ice Cream Sandwich tablet OS loaded albeit with a customised Acer user interface. Expect couple of widgets to be pre-loaded on it and then some apps as well such as AcerCloud Docs. This tablet will also feature the Acer clear.fi Media solution that will connect the tablet to the user's personal cloud storage and allow streaming media anytime over a working Internet connection.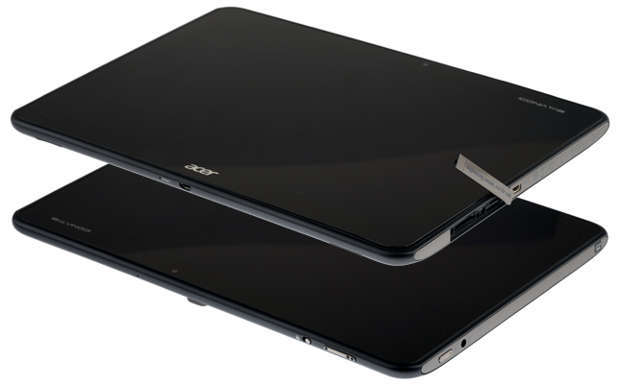 The tablet features micro HDMI to plug it with a HDTV or monitor and micro USB port for data transfer as well as charging. There's also a micro SD slot to expand the storage options. At the rear lies a 5 megapixel camera with Flash and also at the bottom, there's a marking of Dolby Mobile which hints a better audio experience.
As of now, the company has not announced the pricing and availability details for the Iconia Tab A700 tablet. Usually it takes about three to four months for such details to mature and we expect Acer to officially launch it in India by second half of this year.