Days after confirming satellite broadband connectivity in Andaman and Nicobar Islands and Lakshadweep, BSNL has another good news. The state-run telecom operator has now started offering Hotspot Vouchers and coupons for accessing any of its WiFi hotspots in the country.
The news comes from BSNL's official twitter handle which revealed that BSNL is distributing recharge plans for prices of Rs 19, Rs 39, Rs 59 and Rs 69 for accessing its several hotspots across the country. The operator also confirmed (through another tweet) that, on subscribing to any of these plans, users will be able to have access to 38,000 BSNL Wi-Fi Hotspots. This is possible through BSNL's partnership with Wi-Fi network provider iPass, who will offer internet connectivity at tourist sites, heritage locations, public places and rural areas.
India's largest network of #WiFi #Hotspot now available at a very affordable price. Walk into the nearest #BSNL retailer store and recharge today! pic.twitter.com/1u5BCmzMum

— BSNL India (@BSNLCorporate) March 28, 2019
BSNL is offering two separate links for accessing Premium WiFi. While one portal lists a total of 4 WiFi retail Hotspot Vouchers, the other offers a total of 17 Coupons for accessing BSNL WiFi SSID.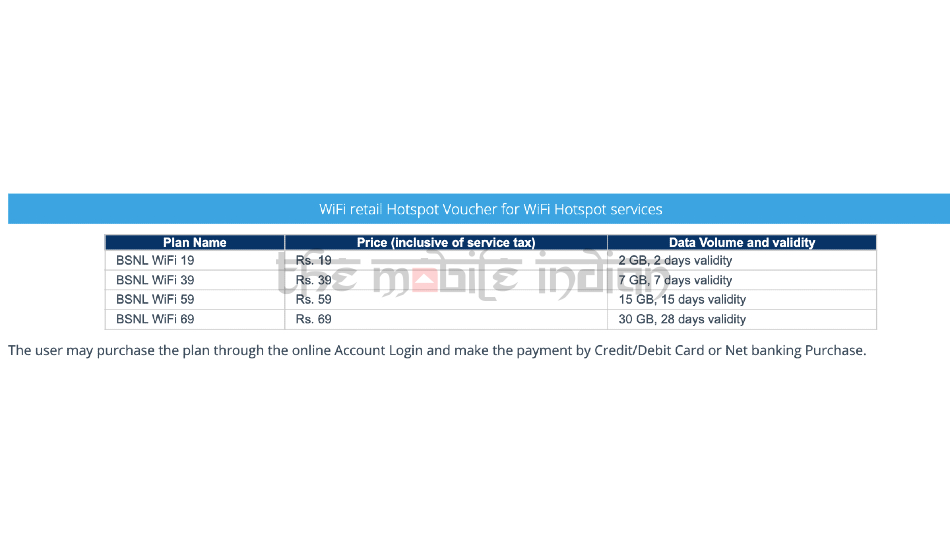 The four Hotspot Vouchers include BSNL WiFi 19, BSNL WiFi 39, BSNL WiFi 59 and BSNL WiFi 69 which offer 2 GB for 2 days, 7GB for 7 days, 15GB for 15 days and 30GB for 28 days respectively. The four WiFi retail Hotspot Voucher can be accessed by clicking here.
The 17 Coupon values listed under BSNL WiFi offer from a minimum of 300 MB for 1 day to up to 160 GB of data for 28 days. The coupons range from Rs 10 to Rs 1,999. Other validity plans offer a usage period of 3 days, 7 days and 14 days. All the BSNL coupon values for BSNL WiFi SSID can be viewed from here.
BSNL has also published a webpage regarding the different locations and hotspot regions that it has installed across the country. The operator indicates that users now have access to 30,419 hotspots which have been installed at 16,367 locations. You can check out whether the place you reside at has a WiFi hotspot nearby by heading over to the link here.
How to access BSNL WiFi hotspots
BSNL WiFi hotspots can be accessed by any customer with a smartphone on any operator as all it does it connect to a WiFi network. To connect to a WiFi hotspot:
1. Turn On WiFi on your phone and select BSNL WiFi in the list of available WiFi sources.
2. Users will then be redirected to BSNL's Captive Portal where they'll be able to choose between Free Wi-Fi and Premium Wi-Fi.
Users will be able to use BSNL's WiFi for free for the first 30 minutes. For using Free WiFi, you'll need to enter your Mobile Number and then enter the PIN you received on your phone.
In case, users want to use the internet some more, they can opt for Premium WiFi which can be availed after buying coupons, vouchers or doing a recharge. Purchased coupons and vouchers can be entered in the login screen or users can also purchase a recharge plan by paying online through Credit Cards/Debit Cards, Net banking or Wallet. The above steps can also be used to access free or premium WiFi through the "BSNL WiFi" app download from the Google Play store.