Bharat Sanchar Nigam Limited (BSNL) plans to implement fixed mobile convergence (FMC) technology in India. The trials for FMC services are on at four places and the services are targeted to be launched by early next year. The company had invited expressions of interest from vendors to set up the system on the BSNL network in August 2009.
FMC technology enables seamless connectivity between fixed and wireless telecommunications networks. What FMC does is to enable the transfer of voice calls between fixed lines and wireless networks using WiFi-Broadband connectivity. A single device can be used to switch between a wired and wireless network without the user being aware of the switch. For example, when a caller (using the cellular network) walks into his office or home with a WiFi enabled Broadband network, the call is automatically switched from the mobile network to the callers WiFi network. The mobile network provider's services are used if the WiFi signal deteriorates and vice versa.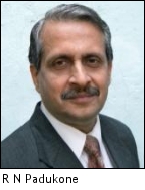 Explaining the advantages of FMC, RN Padukone, principal general manager, corporate planning and monitoring, told Telecom Yatra at the sidelines of a conference here, "65 per cent of calls made by a user are either when he is at home or at office and the signal strength reduces significantly when inside a building. By transferring your mobile calls on to the fixed line, the quality of the voice improves greatly due to the good signal." He further adds, "The second advantage of the technology is that it helps off-loading the spectrum. Hence, this helps in saving on the spectrum and more subscribers can be added. With the available spectrum able to accommodate more subscribers for voice calls, the 3G one can be used for data."
FMC requires a WiFi enabled dual mode handset and the service provider has to support the service through deployment of FMC client on handset and managing that client through an FMC server.
BSNL will launch a pilot service to be used by a customer base of 10,000. The usage pattern will be studied for three months and customer feedback will be taken. As far as the charges are concerned, nothing has been decided as yet. It can either be subscription-based or use some other model. The company will decide on the tariffs on the basis of three months of research. Padukone expects the service to be released next year.
Talking about competition, Padukone stated, "With its huge wireless and fixed line subscriber base, BSNL is well poised to implement the FMC technology. However, this might not prove very fruitful for other existing operators because of their lack of fixed line connections."
BSNL is the fourth largest mobile operator in India, as per subscriber figures released by COAI for December 2009. As far as fixed lines are concerned, BSNL is the country's largest operator. Even though the demand for fixed line is decreasing, especially due to the emergence of mobile phones, BSNL has a subscriber base of around 28 million.
Internationally, there are many examples of this technology being used. For instance, British Telecom (BT) introduced an offer wherein a Vodafone handset is capable of making calls through ADSL via a local wireless connection.