Bharat Sanchar Nigam Limited (BSNL), which has launched three tablets on Friday, will offer attractive data plans with the tablets. According to the government owned teleco, all the tablets will come with bundled data plan of 5 GB for 60 days and after that consumers can do the recharge for Rs 750 for availing the same offer. This special offer of BSNL plan will be available till May 31.
BSNL yesterday launched three tablets manufactured by Noida based company, Pantel Technologies Private Limited (PTPL), in the price range of Rs 3,499 and Rs 13,000. Entry level tablet, Penta IS701R is priced of Rs 3,499 and two mid-range tablets with 7 inch and 8 inch displays cost Rs 10,999 and Rs 13,500 respectively. All the three tablets will be available in BSNL outlets and retail stores across India from March 1.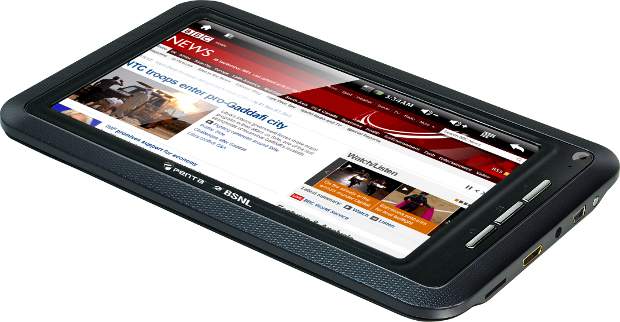 Virendra Singh, managing director of Pantel Technologies, said to The Mobile Indian " We are also in talks with MTNL for providing the tablets with discounted data plans for consumers in Delhi and Mumbai."
RK Upadhyay, the chief managing director of BSNL, said, "BSNL and Pantel Technologies have come together to offer an attractive data plan with the exciting and feature-rich range of Tablets."
Entry level model, Penta IS701R is a WiFi only tablet with Android 2.3 operating system, 1 GHz processor and 256 MB RAM. The tablet also offers HDMI port through which it can be connected to a TV. Its 7 inch resistive touch screen comes with 800×600 resolution and 16:9 aspect ratio.
The tablet has a 3000 mAh battery and 2 GB internal memory which can be expanded through micro SD card. The tablet also has a VGA front facing camera for video calling.
Singh further said, "Penta IS701R has two version one which supports full USB port and another one which supports and micro USB port for connecting data card. "
The mid-range 7 inch tablet with the capacitive touchscreen is named 'Penta Tpad_ws704c'. It has the same specification as its Penta IS701R but offers added 3G connectivity through SIM slot, inbuilt A-GPS, Accelerometer and Bluetooth. It also comes with a 2 megapixel rear camera and also has bigger 512 MB RAM for faster performance.
The costliest amongst the three is the Penta Tpad WS802C which has an 8 inch capacitive screen and a SIM slot for 3G/ 2G connectivity. It also, comes with a faster 1.2 GHz processor and 512 MB RAM. The internal memory is also bigger at 4 GB. Rest of the features like GPS, camera and Bluetooth are same as the 704C.