With the arrival of smartphones, data usage on phones is increasing sharply while at the same time prices of data plans have also come down significantly. However, most of the times users rue inflated bills which is partly due to unmonitored usage of internet on their devices.
That's the reason, why monitoring data consumption on one's device is so important.
For BlackBerry, the Network Traffic Control app tracks the data usage, including WiFi, and it also furnishes daily reports to the users to tell them how much data they used every day. The app works on EDGE, GPRS and 3G networks.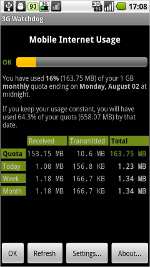 Onavo is a free data monitoring app for iOS devices which can save the users on their monthly bills. It streams data including downloads, browsing on Safari and emails through its servers. Currently it doesn't compress videos and music but the app developer intends to start doing so in future.
Onavo works only when iPhone or iPad is working in 3G mode and not when it is in WiFi mode.
3G Watchdog is a free app for Android, with which users can track their monthly Internet usage. The app helps users monitor their data usage irrespective of whether they are surfing Internet on 3G, EDGE or through GPRS. The app, however, monitors the data only when it has been activated in the background by the users. Like Onavo, the 3G Watchdog also doesn't monitor WiFi data usage by the users.