Bollywood has always been popular with mobile users in India, particularly as ringtones and caller ring back tones. Wallpapers and song tracks are also downloaded regularly. Now, it seems to be the turn of Bollywood applications developed by entertainment companies that are being promoted.
Two major entertainment companies, Eros Entertainment and Hungama Digital Entertainment, have recently received funding from Nokia to develop their Bollywood applications and make them available through its App download website, Ovi Store. This is part of the $10 million (Rs 46 crore) Open Screen Project Fund (OSPF) with Adobe. The OSPF is a market development fund aimed at promoting the creation of applications, content and services that use the Adobe Flash Platform and run on mobiles and computers. The applications have been shortlisted in the first phase of selection from over 900 entries submitted from over 60 countries.
Eros Entertainment's 'Eros Bollywood' application allows instant, on-demand access to exclusive videos from Eros International including trailers, behind the scenes footage, interviews with actors, and clips from movies. The content is being drawn from Eros' catalogue of over 1,900 films. The app will be initially available on all Symbian version 60 operating system phones that are touch-based, including Nokia N97, and will be available for free download on Ovi Store.
Manu Kaushish, senior vice president, new media, Eros International, told Telecom Yatra in an email response, "We plan to monetise the application and video views with exclusive brand placements using video ads. The application will first be available through the Nokia Ovi store. And we are working on Porting the application to other leading mobile phone OS (operating software) platforms." Commenting on the Nokia funding Eros has received, Kaushish said, "The funding is being used to develop the application and to build and manage the infrastructure that is needed to support content on the application."
Hungama Mobile, a division of Hungama Digital Entertainment Private Limited, is another company that received funding by Nokia for its Bollywood application.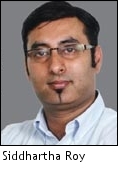 Siddhartha Roy, chief operating officer, Hungama Digital Media, told Telecom Yatra, "We will use the funding to create engaging and state of the art mobile entertainment for Nokia consumers. We are also planning to create features exploring GPS (global positioning system) on Nokia N97 such as show times and DVD store locator."
The company's Bollywood Hungama app, available on Nokia Ovi Store for N97 handset users, is a free of charge application that showcases premium Bollywood content. Bollywood news, behind the scenes exclusives, movie reviews and mobile downloads such as wallpapers and ringtones are available through this application. Some of the content is available exclusively on Nokia N97, on which the app comes embedded.
Roy added, "We have the digital rights to 85 per cent of all Indian entertainment content in the country. Through our partnerships in Bollywood, we have access to a lot of exclusive content for the mobile platform. Hungama Mobile plans to make this content available to Nokia users via the Ovi store, our music store as well as by embedding content into mobile devices."
Earlier in 2008, Eros Multimedia, another division of Eros International, had entered into a deal with Hungama Mobile for the development, distribution and marketing of Eros's music content for download on mobile phones.
Clearly, Bollywood applications are gaining favour with handset manufacturers who are looking at tapping the consumer market for mobile content in India.