With a week to go to kickstart another one of its Big Shopping Days sales, Flipkart finds itself under the scanner after a user registered a complaint with the e-tailer company.Tabrez Alam, a Gurgaon resident was led to believe that the 'new' iPhone 6s that he bought off Flipkart a few months ago was actually a refurbished phone.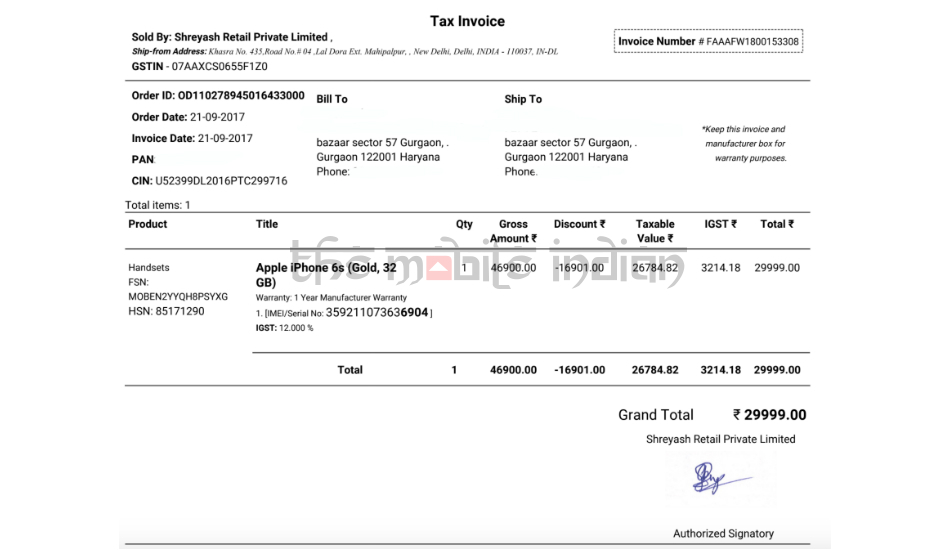 We at TMI aren't sceptical but we don't take things at face value either, so we sought out for proof of hisgrievance. As per our exchange, we can confirm that Alam did order a genuine Apple iPhone 6s. The device was bought for a discounted price of Rs 26,784 during Flipkart's Big Billion Day Sale back in September last year. While it didn't show any signs of wear and tear at the time of purchase, real problems started to surface after a few months.
By January, the 'new' iPhone was constantly draining the battery and according to the user, wouldn't even last 5 hours on a single charge. Not just that, the speaker on the Apple device as well as its microphone were also reported to not function properly. Assuming in good faith that the device he bought was genuine, Alam proceeded to get the device checked at a local Apple authorized service centre since the device was still under warranty.
Phone won't be serviced!
Like any sensible customer would do, Alam checked the Apple India website to locate authorized Apple service centres in his neighbourhood and landed up with Tresor Systems that also happened to be in Gurgaon. When Tresor took a look at the device, they made it clear that the iPhone 6s unit would need to be sent to Apple's service centre in Bengaluru. Things were normal till Tresor came back with a response, four days later, saying Apple had denied any further service for the phone since it was already tampered with. Due to this, the device was no longer eligible for warranty and the user would need to pay the service amount in full to get the device to work properly.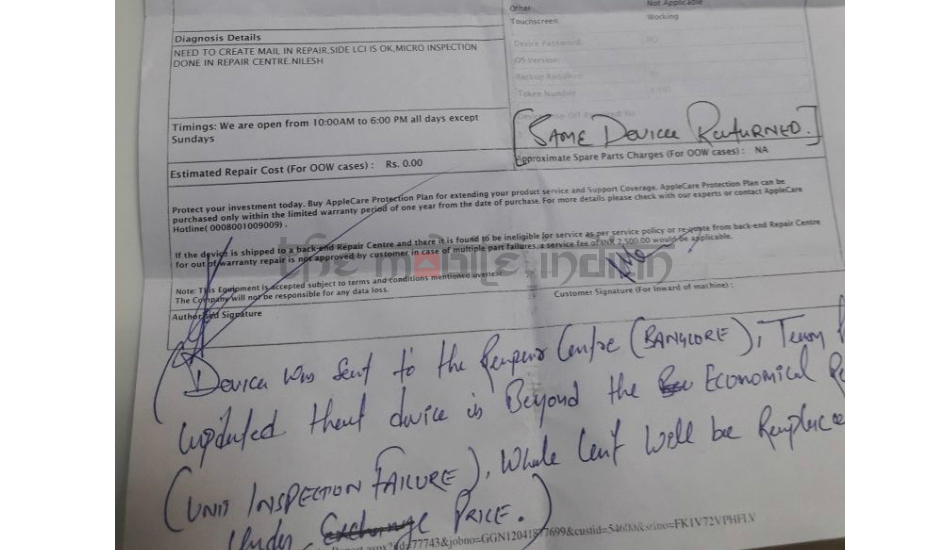 Alam was asked to collect the phone a day later and when he did, he was handed over the service report which read "device is beyond economical repair". The report also clarified that Apple will only service the iPhone if the original price of the unit would be paid in full. On repeated arguments over the genuineness of the iPhone device, the user finally decided to take it up with Apple Support alongside Tresor's on-spot service engineer.
Even after registering the Case ID with Apple, the customer care executives weren't of any help and came back with a clarification on the issue saying the device delivered to the user was "Factory refurbished". It was also informed that the iPhone 6s unit won't survive for more than two months even after the required servicing.
Was it Apple's fault?
According to the transcriptsof the user's complaint with Apple Support, the Advisor who was involved with the proceedings explained: "The device is not original from the factory and has been modified, this modification voids warranty". This pretty much cleared it up that Apple wasn't the perpetrator of the foul play. The Advisor even advised Alam to contact the reseller for further investigation, which in this case was Flipkart.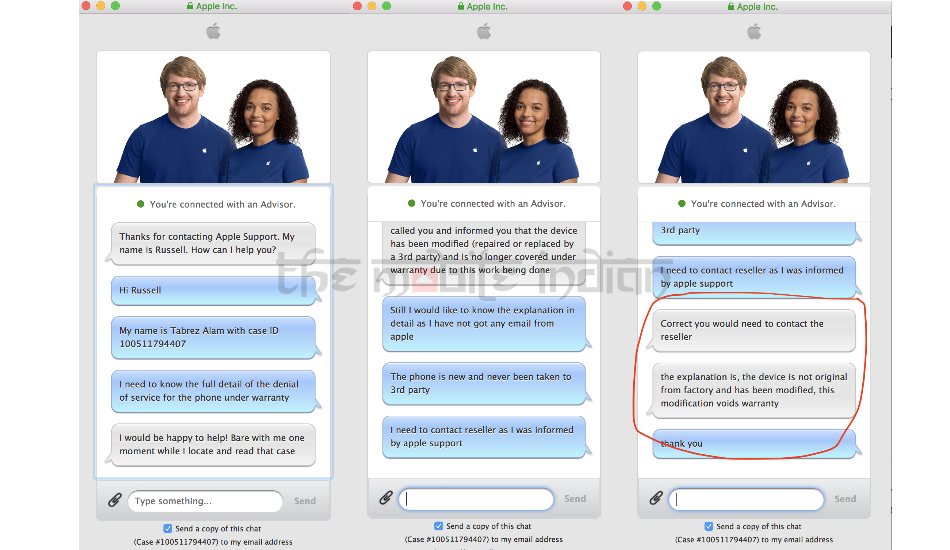 What did Flipkart say?
Unfortunately for Alam, the customer support team at Flipkart weren't readily up for help and initially placed the blame on Alam for going to an unauthorised Apple Service centre . This turns out to be a misguided move from the e-tailer to throw off the user as Tresor Systems was clearly listed on Apple's official website. If that wasn't enough, Flipkart kept on delaying on their end stating excuses like the transcripts could be morphed or that the handwritten note from the service centre won't be accountable.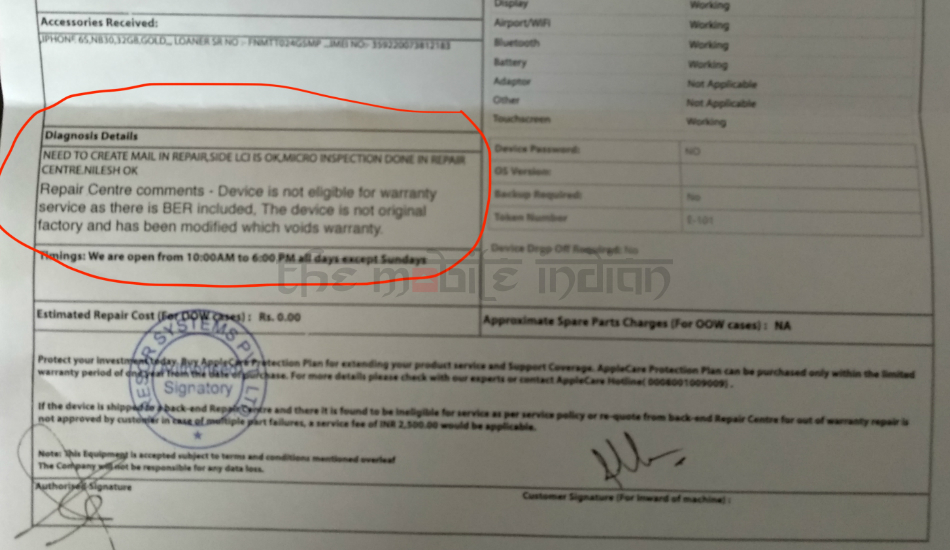 Alam justified this by getting a printed Service Report certified by Tresor as Flipkart was busy trying to 'reach' Apple support which is known for their regular response to consumers. Realizing it was a wrongdoing on their behalf, Flipkart finally agreed to send a replacement unit, after continuous follow-ups and to and fro between them and the user. You wouldn't do your user any good if you weren't to be blamed, would you?
How Flipkart made a mistake…AGAIN.
If selling a refurbished phone as new wasn't enough bad enough, Flipkart's misdeeds didn't just stop there. Flipkart notified Alam of a replacement for his old iPhone 6s which was confirmed and accepted by the seller. The replacement was scheduled for delivery a day after the original device was picked up by Flipkart partner service Jeeves.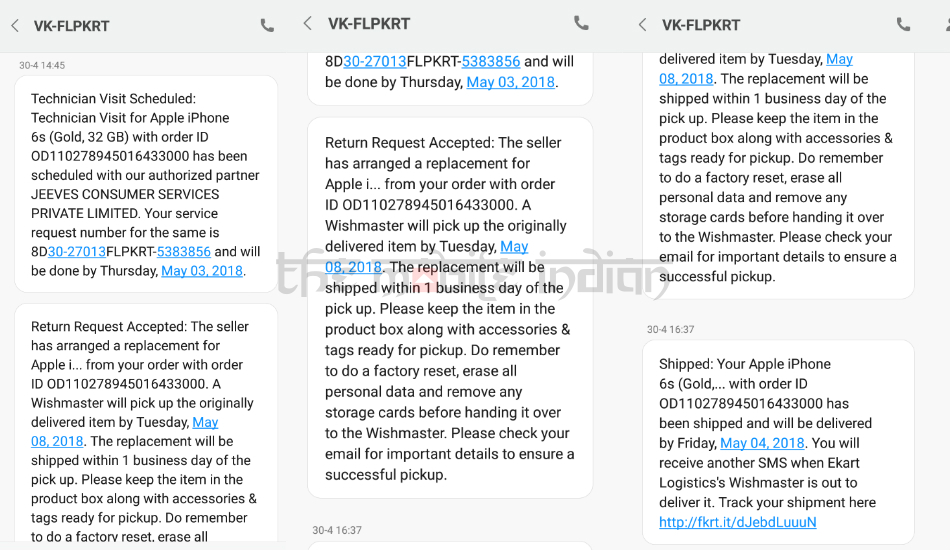 After notifying the user of a delivery through its own Ekart Logistics unit, Flipkart denied theshipment. stating "unforeseen circumstances", a week prior to its estimated date of delivery. To add to injury, the tech visit that was scheduled for the pickup of the older device on May 1 never took place. Instead, Jeeves marked the tech visit as completed and taken care of, when the older iPhone unit was never picked up for the replacement procedure yet to go through. It's quite obvious from the timestamps, that it was a well-scripted move by Flipkart to trick the customer into making him run around in circles. Not only was the item not delivered on the previous date that was May 1st, no efforts were made to get it done until the time of this writing. It's well over two days past the deadline that Flipkart promised for the delivery of the replacement unit as well.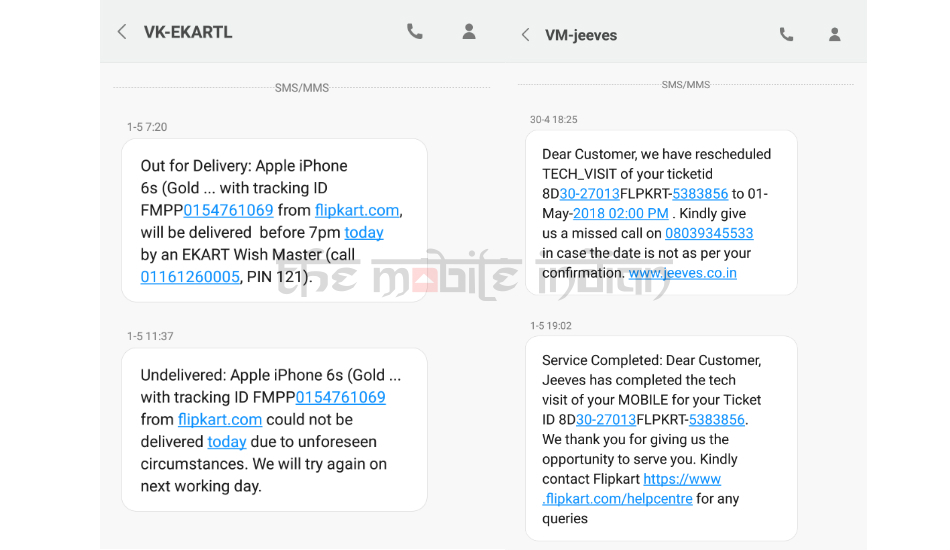 Who is to be blamed?
To this day, Alam hasn't been provided with a solution nor has he been promised one. The blame lies on Flipkart's side for firstly selling a refurbished product as brand new which is commercially a case of fraud. Secondly, a damage of such extent should be of top priority because it directly damages the reputation of the reseller, not to forget the name of the brand whose products are being sold deceptively to customers.
Apple, which remains a third-party in this scenario is also responsible for not reporting such incidents directly to Flipkart for the simple fact that their products are the ones in question. Another thing to be considered is that not all regular customers would be willing to go to such an extent, like Alam did, to get a clarity on what actually happened. In such situations, it would be Apple's product which will be defamed by default, because at the end of the day it was the iPhone that didn't live up to its name, refurbished or not. It's surprisinghow Apple has remained quiet on this matter, which does bring concerns on whether the Cupertino company has itsfoot stuck in the puddle as well.
Conclusion
Incidents like these are one of the reasons, conventional users still limit themselves to buying products, especially high-value ones, at showrooms. And no amount of excuses can justify selling a refurbished phone as brand new without the proper information provided to the consumer.
Consumers shouldn't have to worry about buying items online or on big 'sales'. Large orders like this would need a person to make the payment in advance. If that's not something to be concerned about for the user, e-commerce retailers shouldn't make matters worse by providing incorrect details into luring people into buying products during their seasonal sales. If there aren't any legit checks on the devices that are being sold with huge discounts for no reason, it's the users who should be aware and be able to question their instincts on why a product is being offered at a lower price than usual, though we believe it's a tough ask.
In this scenario, it doesn't need an expert to see that the user has the right to claim warranty for the Apple device in question. Not only was he made to go through loops to get the device serviced, he didn't receive the said device as a replacement as he was promised to, bringing the matter to square one, from where it all started. The complaint warrants the user to receive a brand new product equivalent to the original purchase and issues as such should be deemed punishable.
In some countries, Apple even backs refurbished product with a 1-year warranty and if Flipkart is selling such items, an option like that would always come in handy for users buying these second-hand devices. There have been no updates from Flipkart on the current matter, and it remains to be seen how the company defends its stand in the consumer court, where Alam hopes to get eventual relief, if all else fails.