Texting and chatting are two of the most frequently performed functions on a mobile phone, especially by young users. However, traditional alpha numeric mobile phones are not suitable for the purpose, and apparently not everyone (at least in India) is comfortable with touchscreen phones for texting either.
Hence, for audiences whose mobile phone usage involves heavy texting and chatting, we've shortlisted the best handsets that have QWERTY keypads and are value for money devices. We've aimed to stay within a budget of Rs 15,000.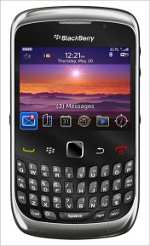 Although to stay in touch with friends you can always use cross-platform applications such as Whatsapp as we covered here,you might also like drafting emails or working on documents a bit and for that nothing comes close to a Qwerty keypad.
BlackBerry Curve 3G
Said to be one of the most purchased mid-range BlackBerry handsets, Curve 3G features a comfortable Qwerty keypad. It is used intensively by BlackBerry Messenger addicts and supports WiFi, Bluetooth, and 3G. Besides the obvious BlackBerry Messenger, one can always use third party multi-login apps like Nimbuzz, Fring and others.
BlackBerry Curve 3G has touch sensitive trackpad navigation with ESC key on the right and menu key on the left. It features a full Qwerty keypad with backlighting. Curve 3G has a 320 x 240 Pixel transmissive LCD display. It comes in black, white and maroon or red body colours.
This handset is available for approximately Rs 14,000 in India and would be a good choice for those who want a comfortable keypad with backlight and a handset that supports secure email.
Nokia E5 & E6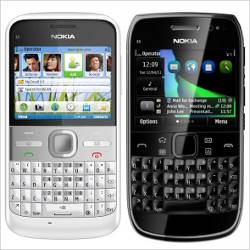 Nokia E-series is aimed at business class users and boasts only enterprise features. However, both handsets come with neatly laid out Qwerty keypads along with a slew of other multimedia features to back them.
Nokia E5 comes in carbon black and chalk white, priced at approximately Rs 10,000. The Qwerty keypad on Nokia E5 is a bit better than the E71 and it has a 2.4 inch display with 320 x 240 pixel resolution. Nokia has packed a 5 Megapixel camera in this Qwerty device.
The E5 is best if you are looking for a Nokia handset with Qwerty keypad, and 3G and WiFi connectivity. Of course the official Ovi Chat can be used for Messaging but you could also try options such as Nimbuzz, Fring, or eBuddy.
Nokia E6 deserves a special mention here for it rules over Nokia E72 and E71 with its touchscreen display and Symbian Anna operating system. Nokia E6 has a full Qwerty keypad and 2.46 inch display that supports 640 x 480 pixel resolution. So the font and multimedia appear crisp.
The new Symbian Anna update certainly brings in promising features like multi tasking, more homescreens, better fonts and a slew of other features. This business class handset is packed with an 8 megapixel camera at the back and a secondary front facing camera, so you can always look forward to the IM applications on it that support video chat. Nokia E6 supports 3G and WiFi (802.11 b/g/n) connectivity.
Motorola Charm vs Galaxy Pro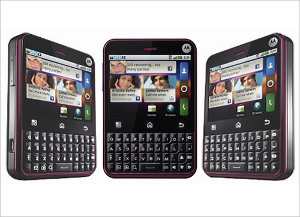 Android smartphones already have Google Talk integrated into them so there is no need to worry about hunting for a decent Gtalk client. With the Android flavour, Motorola Charm makes it to the list of best messaging phones for Android lovers looking for a solid Qwerty device under Rs 9,000.
Featuring a 2.8 inch touchscreen, Charm has a slightly blocky design and a rectangular keypad. This handset comes with a 600 MHz processor, Android 2.1 Eclair, backtrack navigation pad and social network integration.
Its close competitor Samsung Galaxy Pro flaunts a 2.8 inch touchscreen display, an 800 MHz processor, Android 2.2 Froyo, Social Hub Premium and a TouchWiz 3.0 UI. This handset is available at a street price of Rs 10,000. For data network connectivity it offers GPRS, Edge, 3G and WiFi. It also has a mobile WiFi hotspot feature.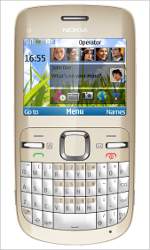 Both handsets promise a decent Android experience, at least on the Qwerty keypads. But of both, we would certainly recommend Galaxy Pro because it has a slightly better Processor and longer Talk time with a 1350 mAh battery compared to the 1170 mAh battery in Charm. For those who are on a strict budget, Charm is recommended.
These are the best Qwerty chat phones with 3G support that cost more than Rs 9,000. For slider Qwerty lovers, Samsung Galaxy 551 is the only good option, and it is available at about Rs 11,000. Now let's take a look at the good Qwerty handsets under Rs 6,000 and be ready to compromise with the lack of 3G connectivity.
Chat phones under Rs 5,500:
Nokia C3
Featuring a 2.4 inch QVGA display, the Nokia C3 supports WiFi but the somewhat sluggish Symbian S40 might be a bit annoying. If you are looking for a smartphone with a wide library of applications, though, Nokia C3 is your best bet.
Samsung Chat 355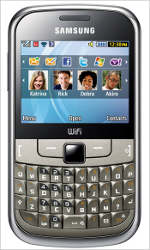 With a sturdy design and body Samsung Chat 355 is capable of running Java based mobile chat applications such as Nimbuzz and Fring. It gets a special mention here due to its WiFi support and large battery pack promising talk time of 11 hours.
Available in black and white colours, the Samsung Chat 355 is a dual SIM handset, which is a bonus for that price. Apart from talking and texting your friends you won't miss out on multimedia either since it has a built in music player and FM radio.
Nokia X2-01
Nokia X2-01 does a wonderful job for those looking for a no nonsense Qwerty handset under Rs 3,500. Sporting a full Qwerty keypad, the X2-01 runs Symbian S40 and comes loaded with Opera Mini mobile web browser. It's a single SIM handset and uses a 1020 mAh battery that supports it for about 5 hours of talk time.
Symbian S40 offers a large number of chat applications that will let you explore and ping your friends. The low Resolution VGA camera can be bit of a downer though.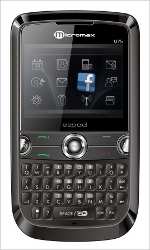 Micromax Q75
Closest to the Nokia X2-01 is the Micromax Q75, a super affordable Qwerty handset with decent build quality and a 1200 mAh battery pack. This Dual-SIM handset comes with a Zenga mail client and the Snaptu social networking application that will keep you in touch with your friends.
Featuring a neat 2.4 inch QVGA resolution display the Q75 certainly feels comfortable. The dual GSM SIM Q75 promises talktime of up to 7 hours and if you use the WiFi it is expected to drop below that. Flaunting a decent 3.2 megapixel camera it is a good choice for someone seeking a Qwerty handset.
If you are still confused about Qwerty handsets under Rs 3,500, do refer to our special story here. It adds to this list.