Asus Tech's Eee Pad Slider tablet may come to India by this year end.
The company is set to launch the tablet in the UK in the coming Autumn season, which is by the end of September or early October this year. Details of the tablet, including its availability, will be announced later this month.
When asked, an Asus India spokesperson did not confirm the availability of this device in India. But since most devices usually come to India 1-2 months after they arrive in other countries we expect the Eee Pad Slider to hit markets here by this year end.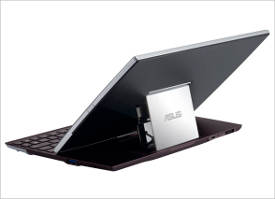 The Eee Pad Slider will be based on an Nvidia Tegra 2 dual core processor running at 1 GHz, with a 10.1 inch display with a resolution of 1280 x 800 pixels. A highlight of it is its slide-out Qwerty keypad that allows users to type comfortably as well. When not in use the keypad can easily be hidden under the tablet.
The Slider will have Android Honeycomb 3.0 operating system but with the upcoming version 3.2 update. There is a huge possibility that the Slider tablet will feature the updated operating system, and if it doesn't then an update is expected to follow right after launch.
As mentioned earlier the pricing and launch dates will be announced by Asus in the days to come. In India users will have to wait till the official announcement about the device's availability is made, or they can make use of websites like Shop Your World and 20 North to directly import devices that have been launched in the UK and USA.